Using the Mini Kanji Search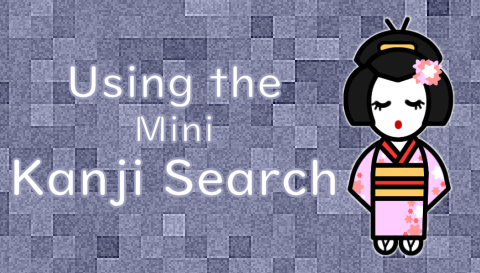 Trying to enter Kanji that you don't know how to type can be a frustrating process. The "Mini Kanji Search" features a powerful search engine allowing you to find Kanji using a variety of different methods.
To open the Mini Kanji Search tool, click on the 字 character on the left side of the search box. You will be presented with the following dialog: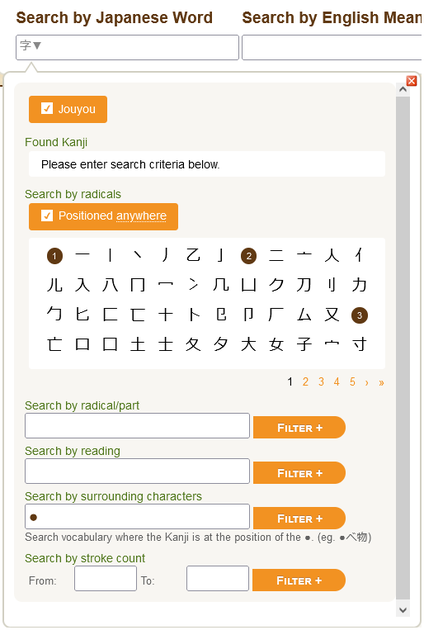 Search filters
At the top of the dialog you will see an orange check box with the word Jouyou written in it. This area is where any search filters you enter gets added. The Jouyou Kanji are the 2,136 most common Kanji used in the Japanese language. Most Kanji you search for will appear in this set, but if you wish to search outside this range you may uncheck the check box.
Similarly, as you add search filters they will appear at the top of the dialog. You can disable any filters that you have added by clicking on the checkbox next to them.
Found Kanji
After you start adding search filters, any Kanji which match the criteria you have selected will appear here.
Search by Radicals
You may filter which Kanji are found by selecting the radicals or parts that it is composed of. The radicals are conveniently ordered by the stroke count that they are composed of. You may also select which position the radical appears in (ie, left, right, top, bottom, enclosing or anywhere) before filtering.
If you know how to type the radical, you may enter it in the search box below rather than selecting by stroke count.
Search by reading
If you know the reading for the Kanji you may enter it here.
Search by surrounding characters
If you do not know how to type one Kanji in the word but know the rest of the characters, you may use these feature to find the Kanji. The "●" character represents the Kanji you are searching for. For example, entering "●べ物" will find four Kanji (比, 食, 較, and 調)
Search by stroke count
You may filter the Kanji returned by entering a range for the number of strokes in the Kanji.
Other methods for finding Kanji
If you are still having trouble finding the Kanji via the Mini Kanji Search, you can try the following:
If you are using a smartphone or tablet, try installing a Japanese handwriting keyboard app. This is generally the quickest and easiest way to enter Kanji when you don't know how to type them.
Another app you can use is the google translation app which allows you to use your phone camera to scan text. You can then copy and paste the scanned text into the dictionary.
Comments