A season of sakura in one magical box!
In Japan, the Spring months of March, April and May make up the season of the sakura. A time when a wave of cherry blossoms flow up from the southern island of Kyushu in March to the northern island of Hokkaido in May. In a country full of natural beauty, the backdroup of the soft pink and purple petals of the cherry blossoms create a magical experience and herald one of the best times to visit Japan. With travel restrictions now over, people all over the world are flocking back to Japan and experiencing this iconic season.
For those of us who did not get a chance to visit Japan and missed the Sakura season, TokyoTreat have packed together a big box of treats which embody the flavours and atmosphere of a starlight sakura festival. And we at Tanoshii Japanese consider ourselves to be extremely fortunate to have received a treat box that we can review for you.
Sakura Starlight Snackfest
Unpacking a snackbox in a lot of ways resembles going to a matsuri (祭り) in Japan. Each and every item evokes the feeling and atmosphere of the various stalls, yatai (屋台) and games you can visit. Upon opening this month's snackbox we are immediately greeted by a beautiful Japanese woman dressed in a yukata (浴衣) on the front page of the glossy guidebook which comes with the treat box. I can't think of a better way to enter the Sakura Starlight Festival.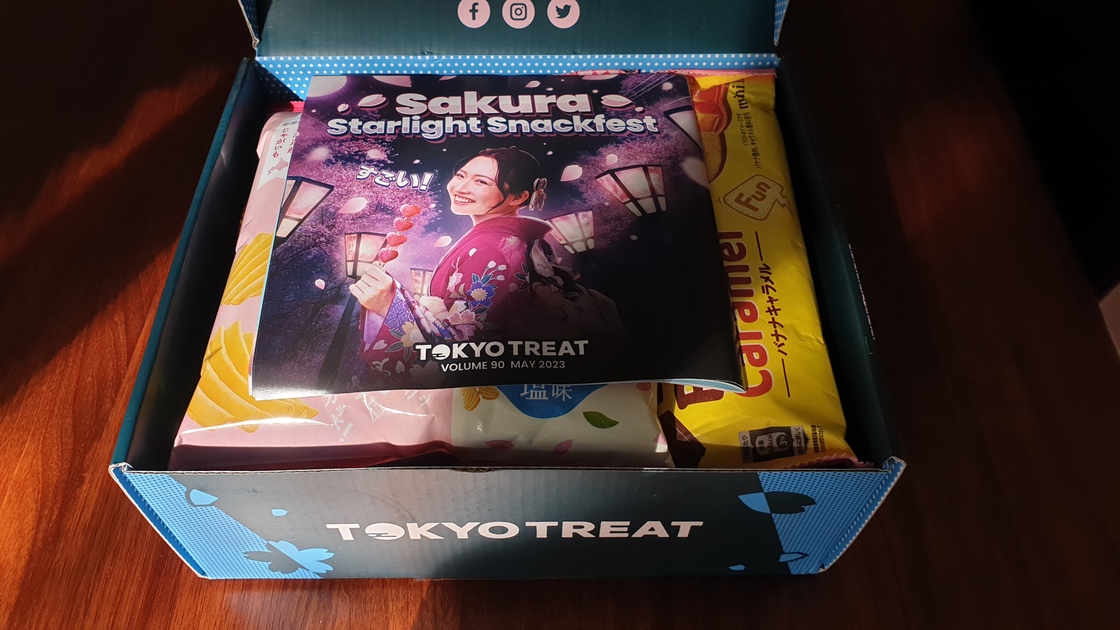 Those first moments upon entering a festival are always the most fun. There is the built up excitement and anticipation leading up to the festival of what you will find and see, and it is in that moment when you enter that those feelings overflow. TokyoTreat's snackboxes perfectly encapsulate those feelings. There is just pure joy as I pull out the various snacks from the snackbox. Piccola Sakura Matcha (ピコラさくら抹茶), Banana Caramel Kit Kats, Puku Puku Tai Strawberry (ぷくぷくたいいちご), Mini Peach Ramune (ミニピーチラムネ) and Sakura Cherry Bouchée (さくらぶっせ)!!!
The list and fun goes on and on!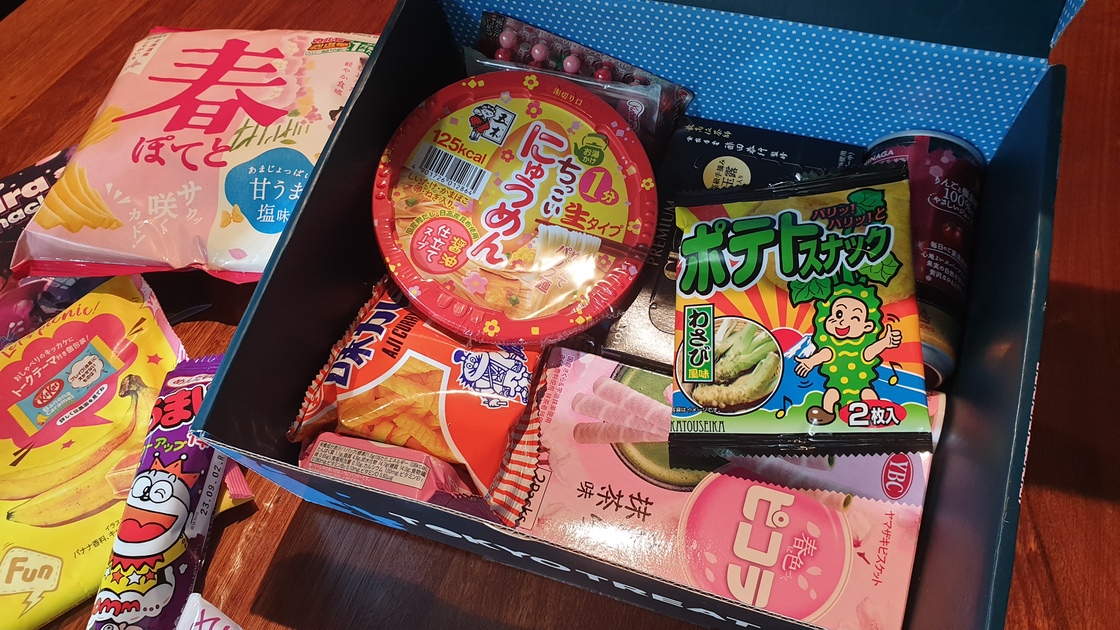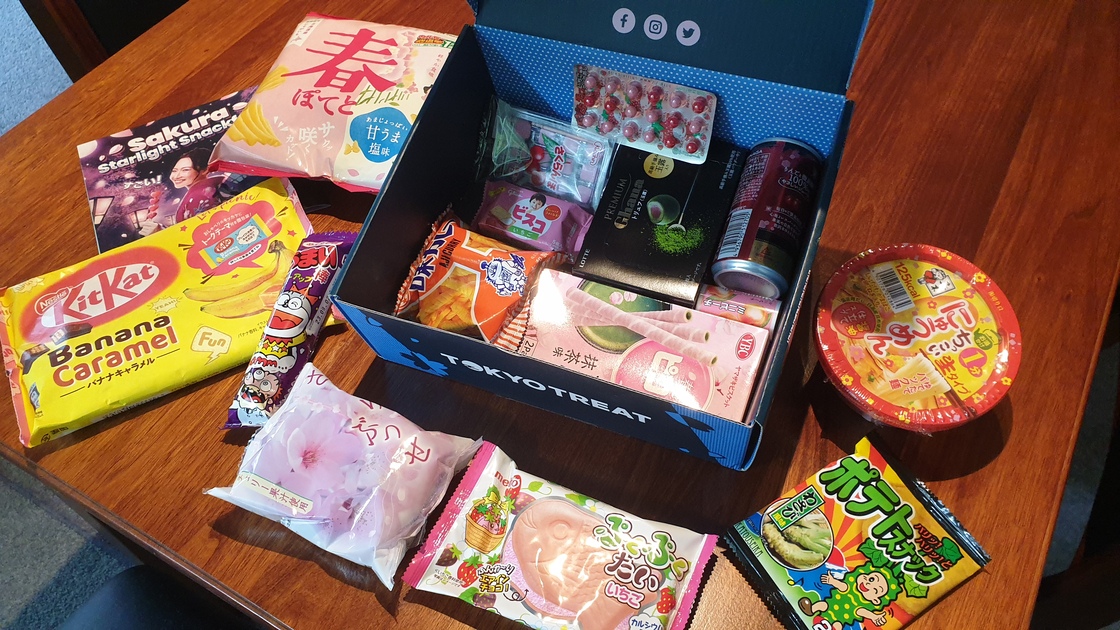 Once again I am just left in awe at the amount of stuff the people at TokyoTreat have packed into each treat box. Each box typically contains between 15 to 20 items and weighs over 1.3kg (2.86lbs). I really don't know how they manage to pack so much stuff in the box. Once you take everything out, you won't be able to fit it all back in, it is packed so tightly. If you are thinking of ordering one, you can order snack boxes individually for a special occasion, or you can save by buying a subscription and be treated every month of the year. They make wonderful gifts for anyone studying Japanese or for those who love the Japanese culture. To fully appreciate what you get, have a read of our reviews for previous snack boxes from TokyoTreat and Sakuraco.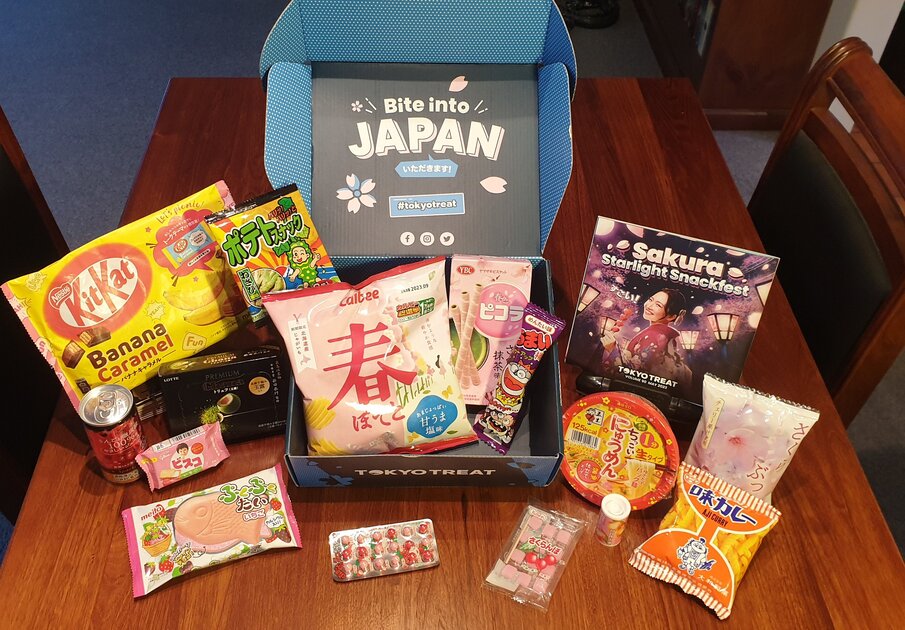 I am so impressed by the design and the snack choices that they have made for this snack box. The soft pinks and deep purples, interspersed with the bright yellow and oranges on the packaging perfectly captures the feeling and atmosphere of a spring night festival in Japan.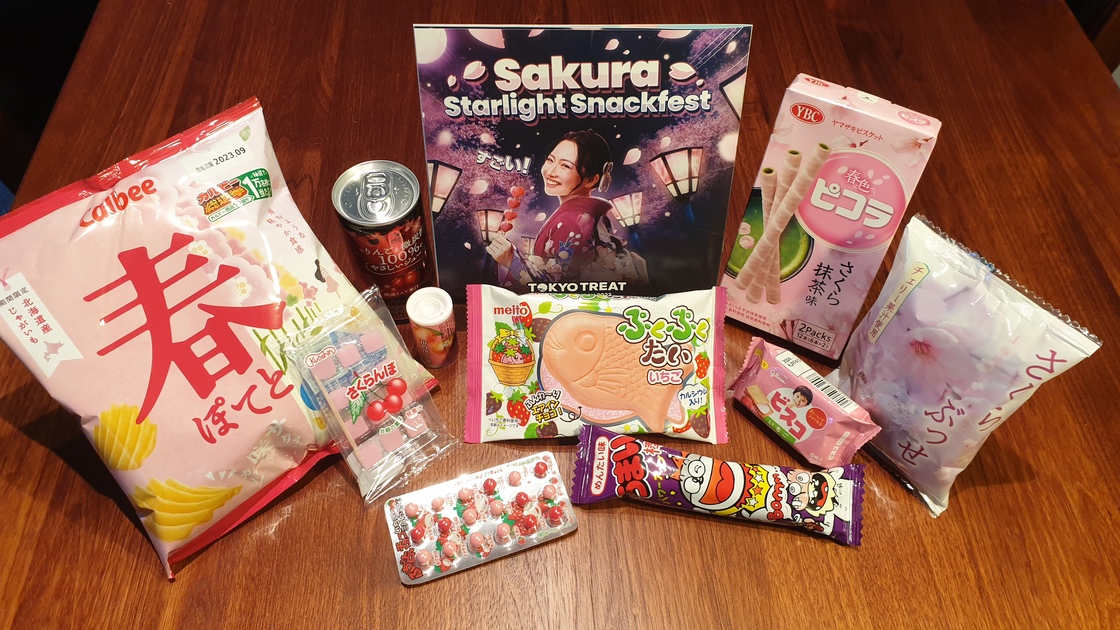 Let's have a look at some of the individual items!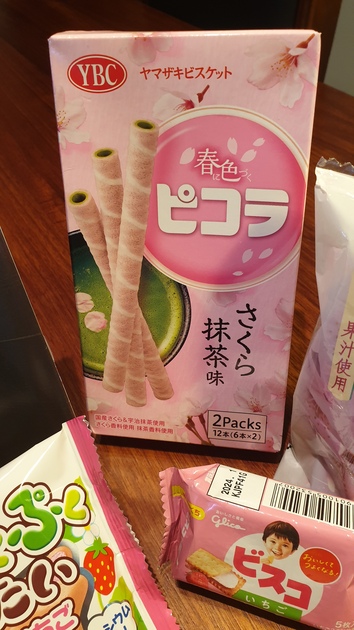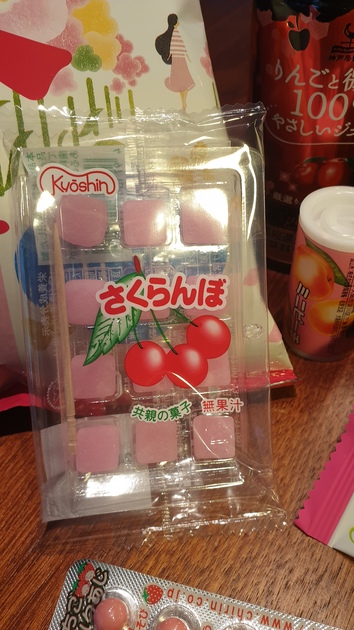 Coming in a similar sized pack to Pocky, Piccola Sakura Matcha are wafer rolls filled with a thin layer layer of delicious Uji matcha cream.
There is nothing better to munch on while strolling around a matsuri than mochi (rice cakes). These mini cherry mochi (さくらんぼ糯) are bite sized and come with a tooth pick that you can use to pick them out of the packaging with. How cute!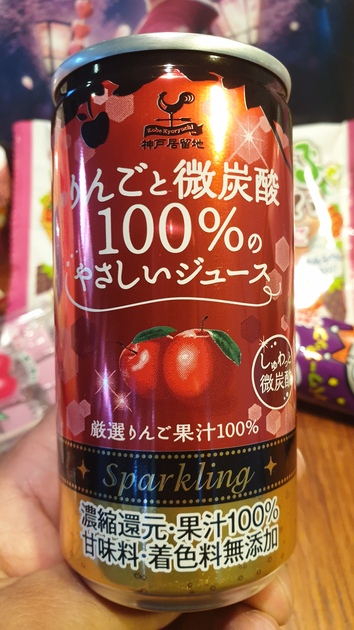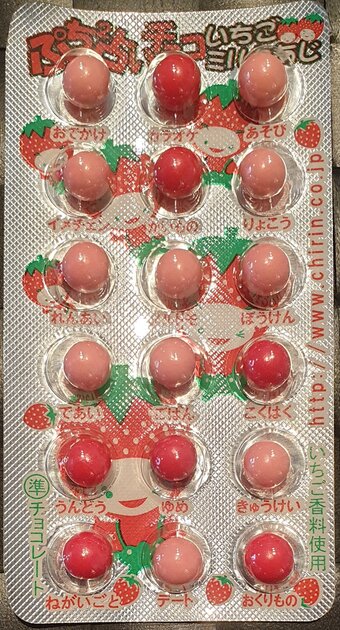 They've even packed a can of Kobe Sparkling Apple Juice (リンゴと微炭酸100%やさしいジュース), the deep red colour of the can perfectly compliments the imagery of walking around a festival full of lantern lit cherry blossoms.
This one was heaps of fun!! Coming in a blister pack, the Strawberry Choco Pop-Out Fortune actually foretells your fortune! Each ball comes in a category, and when you pop out each candy you get your fortune read. Find out how your day will be for things romance (恋愛), adventure (冒険) and travel (旅行). There is 18 categories in all, a convenient QR code link in the guide lists all the possible categories for you.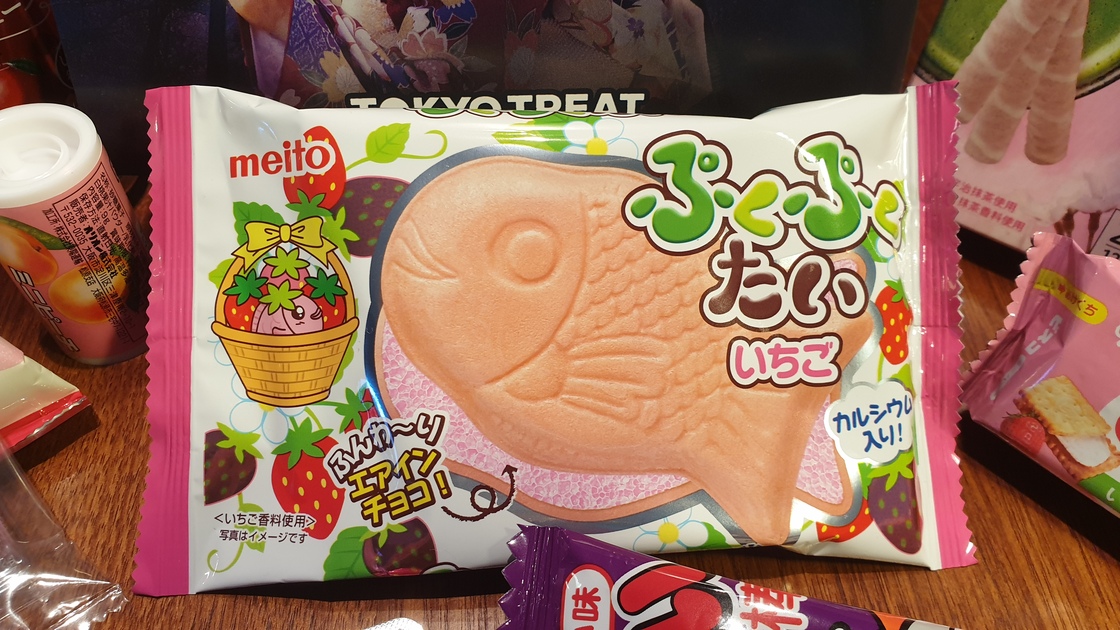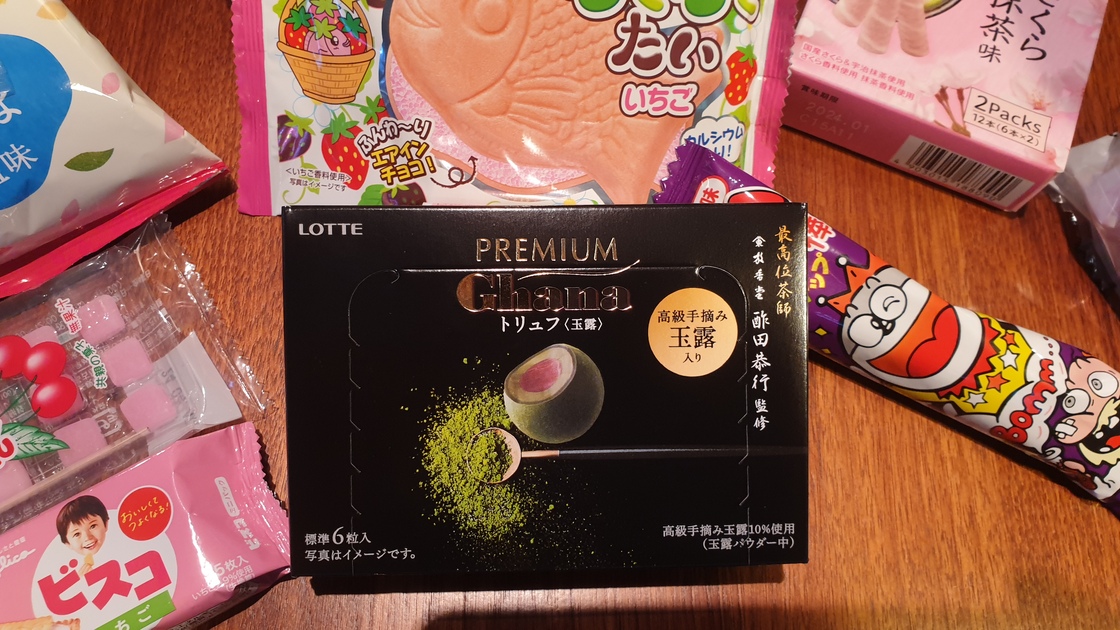 Taiyaki (タイ焼き) is one of the most popular and delicous traditional festival foods in Japan. It's a fish-shaped cake filled with sweet red bean filling that you eat warm. These Puku Puku Tai Strawberry (ぷくぷくたいいちご) resemble taiyaki and are made from wafers and filled with sweet strawberry cream!
Coming in the black packing with gold lettering, the Ghana Match Truffles emit an adultish vibe. They are small milk chocolate balls coated in green tea and dusted with a matcha powder.
A special treat for Japanese Learners!
While trying out new Kit Kat flavours is always a treat, and I can't begin to describe just how delicious the Banana Caramel Kit Kats really are, these Kit Kats come with an additional treat for Japanese learners. On the main packaging is written 「おしゃべりのキッカケにトークテーマ付き個包装!」, which translates to each individual wrapper comes with a conversation starter!
The wrappers seem to randomly chosen, out of the 10 Kit Kat's in our pack, we recieved 6 different themes.
「サンドイッチ派?おにぎり派?」Are you in the sandwich camp or the onigiri camp?
「ドライブにぴったりの音楽は?」What's the perfect music for a drive?
「ブレイク(休息)に欠かせないものは?」What's essential for a break?
「気になっているお出かけスポットは?」What is your favourite outing spot?
「バナナといえば?黄色、ゴリラ以外で言ってね!」Speaking of bananas? tell us about something other than the colour yellow or gorillas!
「新しくチャレンジしてみたいことは?」What's a new challenge you want to try?
This is so much fun and just the perfect item for sharing with a Japanese study partner, tutor or with your Japanese class members!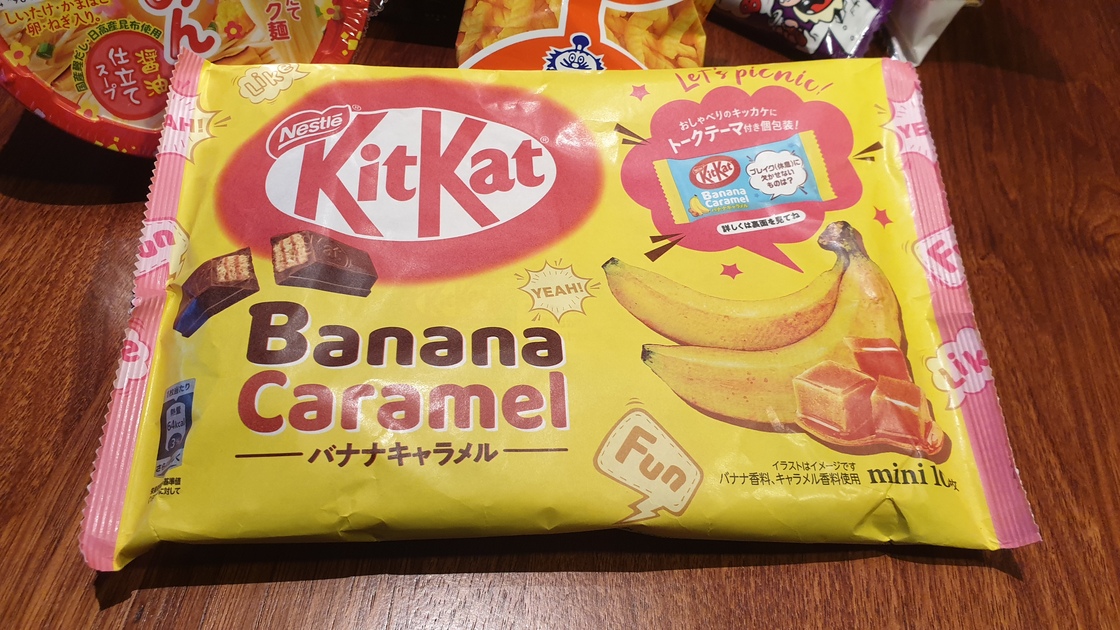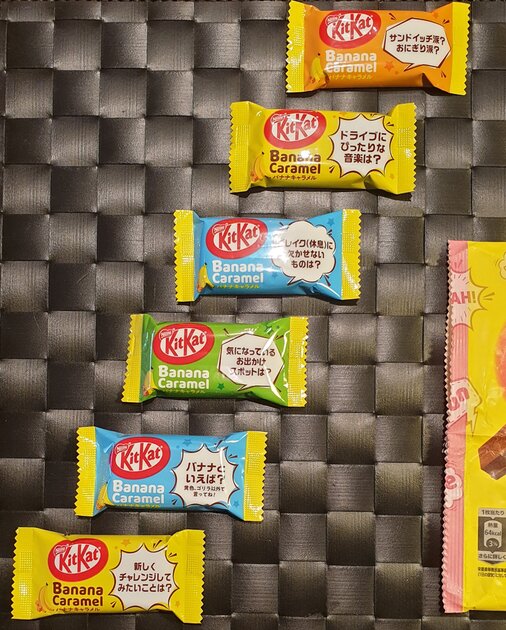 Your Guide to Sakura Starlight Snackfest
It's always a pleasure to read the snack guide from Tokyo Treat. This month's issue features lots of interesting information about the significance of sakura in Japanese culture, what you can expect to find at a spring matsuri in Japan and some tips in etiquette so that you fit in like a native!
Besides, the cultural information, there is descriptions about each and every product provided in the snack box, including details on common allergens, ingredients it may contain and whether or not it is suitable for vegetarians. A lot of love and effort has gone into making the guide, and it reflects the quality of the product that TokyoTreat has prepared. A sample of some of the pages is shown below.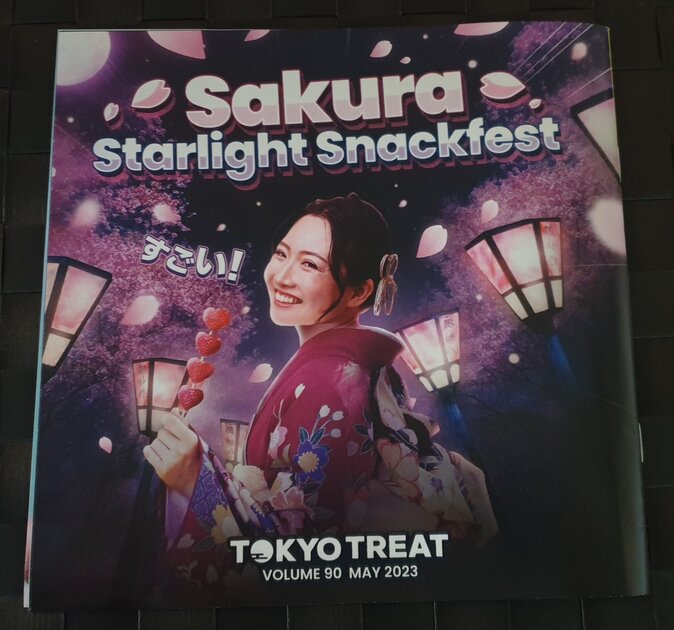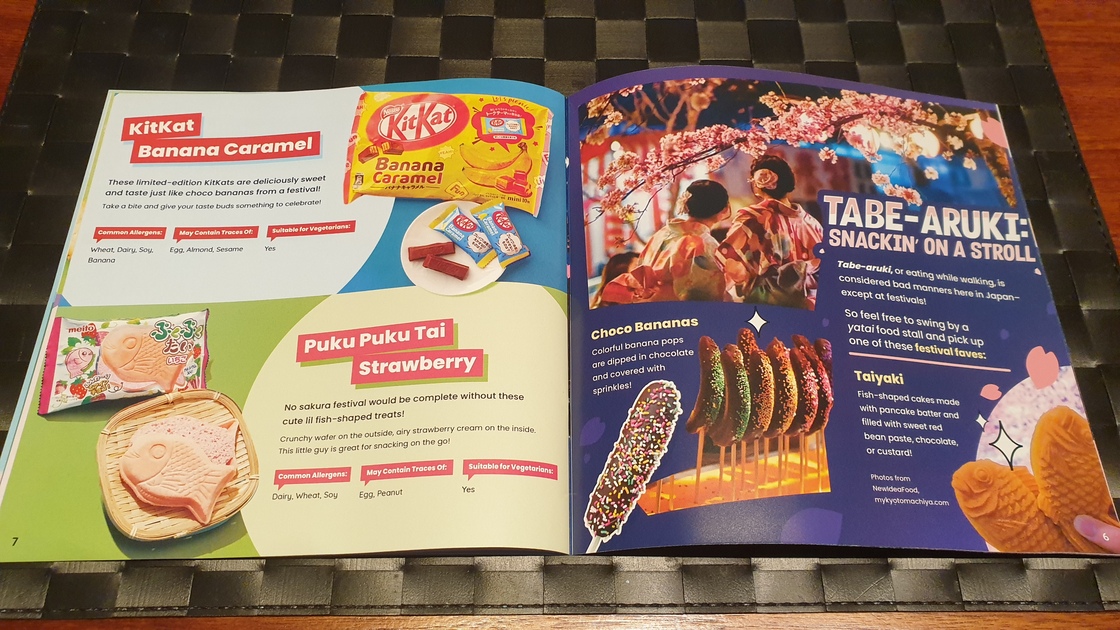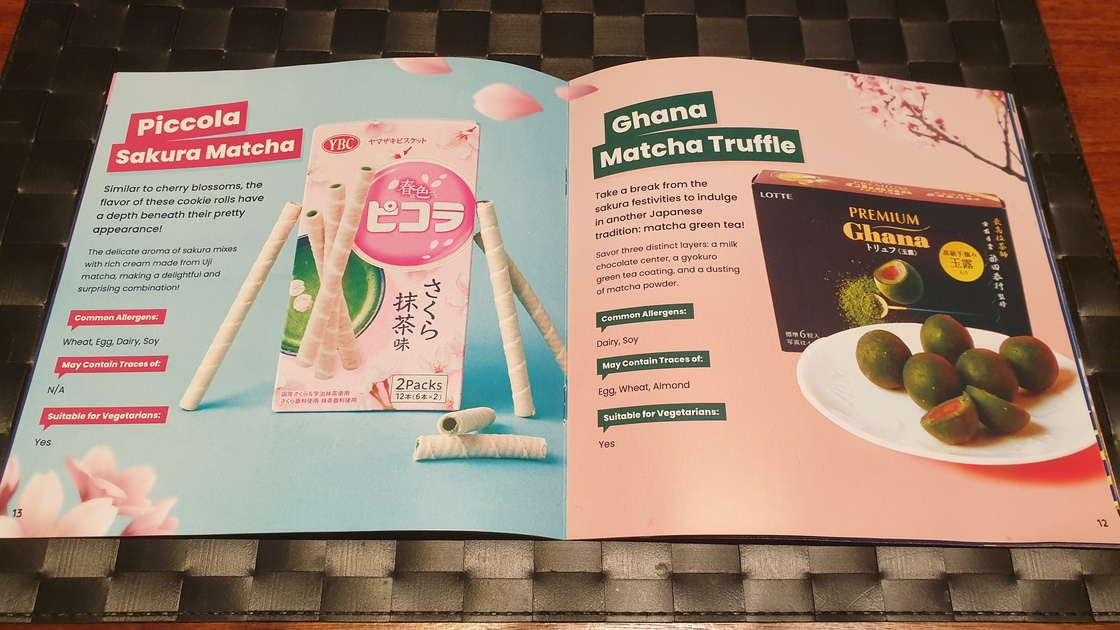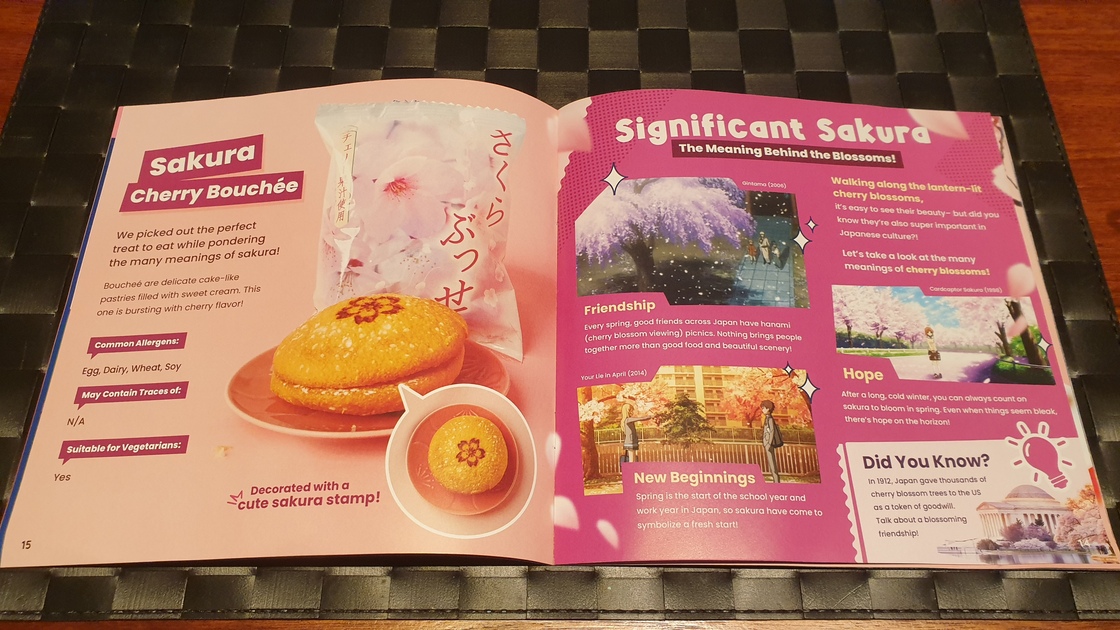 Full list of snack box contents
1 Packet of 10xKit Kat Banana Caramel
1 Puku Puku Tai Strawberry
1 Can of Kobe Sparkling Apple Juice
1 Mini-can of Peach Ramune Candy
1 Packet of Bisco Mini Strawberry Cream
1 Packet of Mini Cherry Mochi
1 Packet of Sweet & Salty Spring Chips
1 Bowl of Instant Nyumen Soy Sauce Ramen
1 Packet of Ghana Matcha Truffle
1 Packet of Piccola Sakura Matcha
1 Sakura Cherry Bouchée
1 Packet of Yamato Curry Senbei
1 Packet of Wasabi Potato Snack
1 Packet of Umaibo Mentaiko
1 Blister Pack of Strawberry Chocho Pop-Out Fortune Candies
Comments