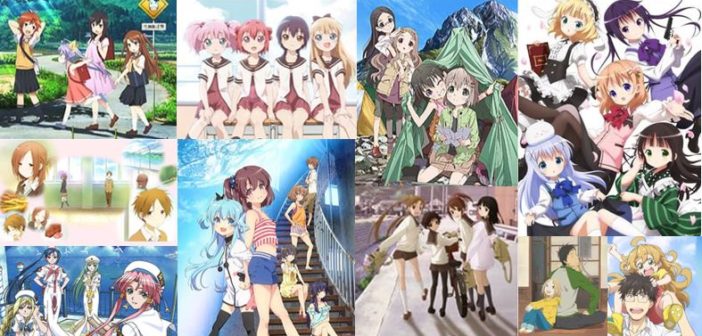 Introduction
It is not easy to select the best anime "for you" to learn Japanese. If you want to give priority only to learning Japanese, you can choose cartoons for children. However, they are too short and not very motivating. The important thing is to select anime that is suitable for learning Japanese and is "interesting." Learning is difficult to continue without stimulating your intellectual curiosity and providing you with the fun of acquiring knowledge.
Here are the top 10 anime you can use to learn Japanese. This is a carefully selected list of more than 500 anime that I, as a native Japanese, comprehensively analyzed and evaluated the level of Japanese, the prevalence of difficult words, the way the characters talk, the difficulty of the story, etc. They're all classified as "very easy" so they're just for beginners. Furthermore, these anime works are not only easy to understand terms and conversations but are also suitable for understanding Japanese culture and characteristics.
1. "Non Non Biyori" Series
<Story line>
This anime is about Hotaru Ichijou, who moved from the city, becoming familiar with rural life while feeling embarrassed. At the elementary and junior high school where Hotaru moved in, there were only five students, but there were friends who could teach her how to live and play in the countryside, such as picking wild vegetables and cherry blossom viewing. Let's get a glimpse of the nostalgic daily life of the Japanese, who never forget to enjoy themselves even if there are inconveniences.
<Recommended Reasons>
This anime, with its relaxed style, tells a soothing story about the rural atmosphere while letting you forget the hustle and bustle of the city. On top of that, heart-warming moments are incorporated in this story which makes you smile, and you can very much enjoy this anime. And the characters don't have strong personalities. They have normal personalities that make Japanese people feel close to them.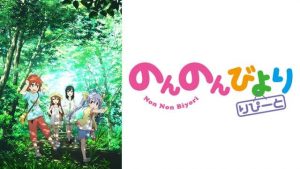 And since this anime is mainly about everyday life, the story is simple and easy to learn. Listening is easy because the characters speak normally (note that only Renge is a little different). There are not many difficult words and the conversations are simple, so the difficulty level of Japanese is low as a whole. Therefore, this anime is highly recommended as a material for studying Japanese.
<Learning Point>
In addition to having very few difficult words, this anime has many characters with normal speaking styles, so it is easy to listen to and emulate. On top of that, you can also enjoy rural sceneries that change as the seasons transition, so you can also learn about Japan's four seasons and events that conform to those seasons. For example, summer vacation, school festivals, general cleaning, and the first sunrise of the year. Summer vacation is a long vacation that is a matter of course for Japanese schools, and students use this vacation to go on trips or to the beach. The school festival is a common school event held around autumn. Big cleaning means to clean the house and the office at the end of the year. In Japan, it is considered good to remove the dust of the year at the end of the year and greet the new year in a clean condition. Hatsuhinode (初日の出) is the sun that rises on the morning of New Year's Day. There is a custom in Japan to wake up early and pray for the sunrise on New Year's Day, based on the idea that "God of the Year" (年神様, Toshi Gami sama) descends with the first sunrise of the year.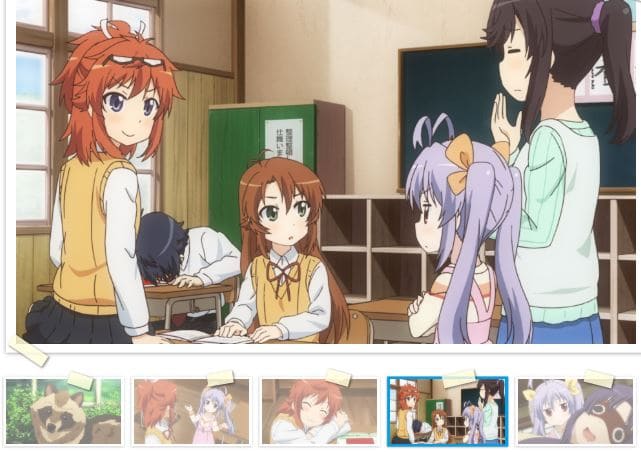 Also, because the stage of this story is in the countryside, many words unique to Japan appear, such as "ohanami" (cherry blossom viewing), "dagashi-ya" (candy store), and "sansaitori" (picking wild vegetables). It is also possible to learn about rural life, which is different from urban life. For example, children in the countryside, unlike in the city, often enjoy swimming in the ocean, fireworks and picnics. They play traditional Japanese indoor games like ayatori and nendo.
2. "YuruYuri" Series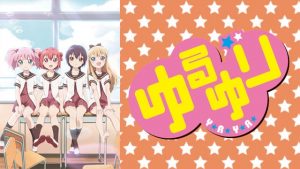 <Story line>
This anime is a slack comedy by four junior high school students. The anime focuses on club activities established by the four members of the group and includes conversations with student councils that meddle with them. The daily life of a character who makes even the slightest thing interesting gives you laughter and healing.
<Recommended Reasons>
This anime is strongly recommended to those who like a slice of life anime (which depicts daily life) or light "Yuri" anime. Because it is a comedy, there is no need to think deeply, and you can easily forget the hustle and bustle of daily life by enjoying it. The characters are unique but the pictures are cute, so you can enjoy the gap between them. Each story is complete, so the story is easy to learn. Difficult words include "bukatsu" (club room), "Sadou-bu" (tea ceremony club), and "Houkago" (after school), and simple words include "Yofukashi" (late at night) and "Kafun-syou" (hay fever).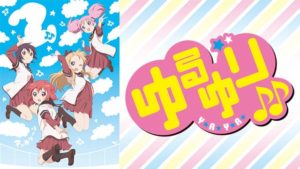 Since the main character is a junior high school student, the way she talks is normal, and Akari and Chinatsu in particular are suitable for listening and emulating. Overall, it is easy to learn Japanese from this anime, so I recommend it as a learning material.
<Learning Point>
Only about 10 difficult words appear throughout this anime, so you can memorize all of them. Since most of the characters are female, it is easy for female learners of Japanese to emulate as well as listen. Also, because the story is based at school, students can study Japanese words and expressions which are essential for student life, such as "Seito Kai (student council) and "Syukudai" (homework).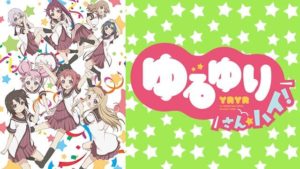 There are also many words of any genre, from young people's words such as "Maji?" (Seriously?) and "Yandere" (Jandele) to otaku words such as "Comike" (Comic Market) to idioms such as "Youi-Syoutou" (well-prepared) and four-character idioms. Listening to realistic Japanese is one of the most recommended points.
3.Bunny Drop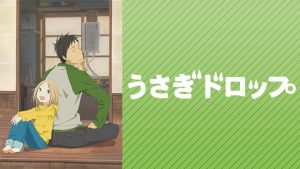 <Story line>
This anime is about the daily life of Daikichi, a 30-year-old single who decided to adopt his grandfather's out-of-wedlock child (illegitimate child), and Rin, who was taken in at the age of 6. Daikichi, who was confused at first, gradually began to enjoy his days with Rin, and this heartwarming story taught him the warmth of his family. It conveys both the hardship and greatness of childcare from the perspectives of parents, children and their families.
<Recommended Reasons>
The story and worldview of this anime are excellent. Even ordinary people who are not otaku can be touched by the story. The story will also make you think about life and make you smile. A single 30-year-old man may be reckless about starting to raise children all of a sudden, but society is actually warm. This anime reminds you of the warmth of your family and the harmony of Japan – something people may have forgotten about. On top of that, the subject matter is daily life such as child-raising and meals, so you will feel more familiar with Japanese life. The difficult words are only those related to child-raising such as "Boshi-Techou" (maternal and child health handbook) and "Hoiku-en" (nursery school) or minor terms for everyday use such as "Soushiki" (funeral) and "Rikon" (divorce).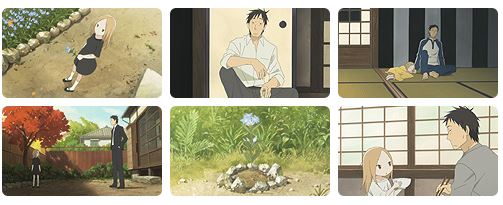 The main character, Daikichi, speaks in a normal way, making it suitable for beginners to learn. The child, Rin has a lot of short lines, so the viewer needs to guess the words omitted. But Rin can't speak difficult words, so it's perfect for learning words. And this anime is easy to listen to, so I strongly recommend this anime to beginners.
<Learning Point>
First of all, there are few difficult words, so please remember them. It will be easy to learn because only words used in daily life will appear. Since the main character is a 30-year-old man, this is a rare setting, so we strongly recommend listening and emulating to male Japanese learners. Even female learners can learn by listening to many words used in parenting and daily life. Of course, female characters are also suitable for emulation.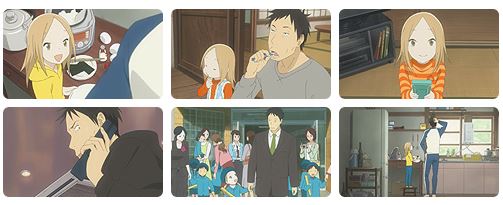 You can also learn about raising children in Japan, where the sitter system is not common. For example, parents have to take their children to the nursery every morning and pick them up in the evening. Parents need to prepare and feed their children. And because this anime uses the unusual pattern of a single male parent, it is very instructive to teach a beginner to raise a child. For example, conversations about preschool procedures and between adults when Rin has a fever are much easier to understand. In addition, in the first episode, you can get a glimpse of how disadvantaged children born out of wedlock are, so you can feel how important background and birth are in Japanese society.
4. "Is the Order a Rabbit?" Series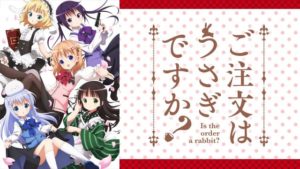 <Story line>
When Cocoa entered high school, she was taken care of by Kafu Family who runs a café called "Rabbit House." Cocoa will work in a coffee shop because school policy requires her to help the family. At the coffee shop, Chino from Kafu Family and Rize who works there became her friends Cocoa's happy life begins, wth Chino, who is cute like a younger sister, and Rize, who is cool but feminine.
<Recommended Reasons>
The beauty of this anime is its cute design and relaxed world view. No bad incidents occur. You will be healed by the characters who make you feel happy even with a little thing. Not only the members of the cafe, but also the interaction with the school and the people of the town are depicted, so you can enjoy the aspects of the characters other than their work.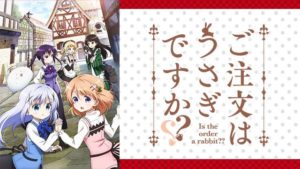 The Japanese language, which is composed of a relaxed and simple story and characters with their own pace, is very simple and contains few difficult words. If they did, they would be as simple as "Kissa-ten" (coffee shop), "Osananajimi" (childhood friends) or "Kyoukan" (instructor). Because of its generally laid-back tone, each character is suitable for listening and emulating (Only Rize has a military tone, so don't emulate her). Since the contents of conversations are about everyday life, it is suitable as a material for learning Japanese.
<Learning Point>
Since the way the characters speak is typical of girls except for Rize, it is suitable for listening and emulating for girls who are new to learning Japanese. Especially since Chino speaks in polite language, emulating her speech is a good learning experience. And Chino is so quiet and distant that she speaks politely to everyone. This kind of personality is not uncommon among Japanese people, so it's good to see how they gradually open up to each other and learn about their secrets.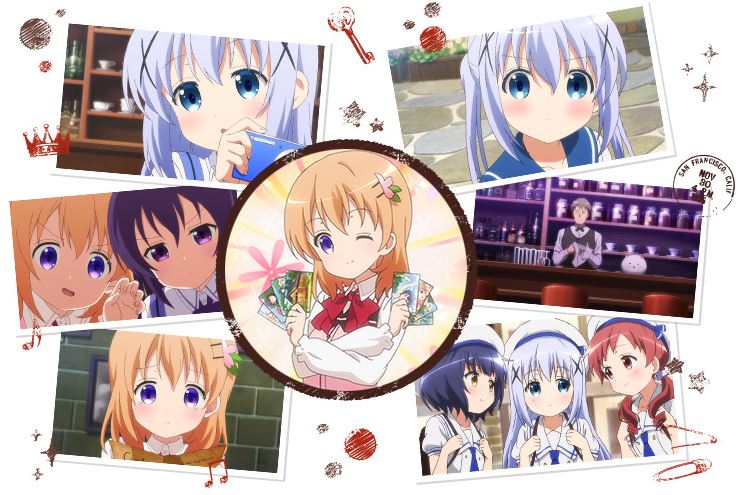 5. "Celestial Method"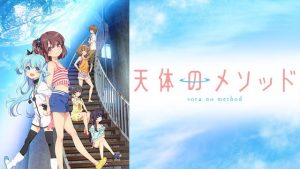 <Story line>
Nonoka, who is now in her third year of junior high school, returns to the mysterious town where a disk (UFO) has been appearing for seven years. Then Nonoka meets Noel, a mysterious girl in the town. But Nonoka actually met her seven years ago. Nonoka had little memory of the past, so she was a little awkward with her peers, but she gradually remembered the past. At the same time, it is a coming-of-age story in which they become familiar with their awkward friends.
<Recommended Reasons>
This story is a nostalgic anime with a sense of security that can be seen with children. If you have a childhood memory of friends, you'll be able to empathize. Plus, the story has a bit of S/F factors, which makes it a great choice for those who love the wonders of anime. The scenery is beautifully drawn, so it is easy to understand the atmosphere of the rural town.

The story is so simple that even children can understand it, and the terms are simple. There are a limited number of difficult words, such as "Enban" (disk) "Hanchou" (group leader) and "Kanban-Musume" ("poster girl" of restaurants or stores). Since the characters can learn both normal and polite speech, this anime is perfect as a starting material for learning Japanese.
<Learning Point>
Junior high school students are the main characters, so the vocabulary is simple. For example, astronomical terms such as "Tenmon-dai" (astronomical observatory) and "Ryuusei-gun" (meteor shower) and school terms such as "Shigyou-shiki" (commencing ceremony for a new school term) are good words to learn.

The main character, Nonoka, uses polite language for a junior high school student, so it is recommended for listening and emulating. Since all the other characters are easy to listen to, it is perfect as a material for beginners of learning Japanese. Nonoka's awkward manner and use of honorific language to anyone is very Japanese and shows her shyness. Seven years ago, she was able to speak normally, but now you will be able to understand the characteristics of the Japanese better if you pay attention to the differences in her way of speaking which shows a bit of a gap.
6. "Sweetness and Lightning"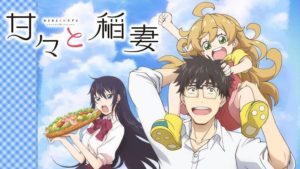 <Story line>
Kouhei, a high school teacher who lost his wife six months ago, gave his kindergarten daughter lunch boxes and frozen food that he had bought out. Worried about guilt, Kouhei decided to cook although he was not good at cooking. He improved his cooking skills with a student he meets by chance. Even if you don't know how to cook, this anime will remind you of the fun of cooking and how great it is to eat with someone.
<Recommended Reasons>
This anime depicts the process of building a bond with people through cooking while raising children. In particular, you can easily sympathize with the guilt of relying on frozen food and pre-made boxed lunches, and how great it is to eat with someone. Because this is an anime based on everyday life, the story is simple and easy to understand. The difficult terms are limited to those related to cooking such as "Ajimi" (tasting) "Yu-doushi" (parboil) and "Shita-goshirae" (preparation).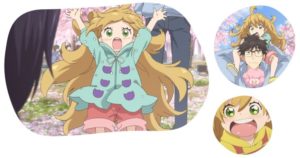 Since children speak like children and adults speak like adults, it is easy to listen to and emulate. It is a good teaching material for beginners in the study of Japanese to learn about Japanese cuisine, as it generally uses simple Japanese expressions that are suitable for everyday life.
<Learning Point>
Obfuscated words are terms related to meals and cooking, and there are few of them, so take this opportunity to learn them. Since the characters speak in a normal manner, they are suitable for listening and emulation practice. Especially Kouhei, the main character, speaks politely to his students, so I want male learners of Japanese to emulate his way of speaking.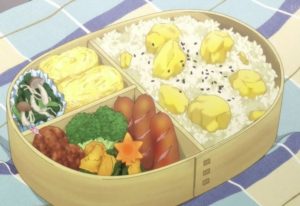 Delicious dishes such as "tonjiru" (pork miso soup) and "okonomiyaki" (savory pancake with various ingredients) are described in detail. It's a good idea to memorize the names of dishes while keeping these images in mind. You can also learn words like "delicious" and "happiness" that can be used to give impressions of food. At the same time, you can learn about the child care process in Japan, such as play-goers and overnight childcare.
7. "Tamayura" Series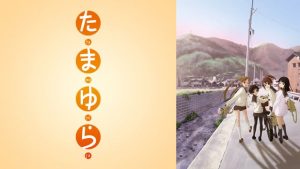 <Story line>
Upon entering high school, Fu moved to her late father's hometown. She had often visited her father's hometown since she was a child, but when she became a resident, the town still looked fresh. Fu reopens with Kaoru, whom she used to play with a lot, and makes new friends, enjoying high school life. Riho, Fu's favorite photographer, is also living in this town, and it is a coming-of-age story that grows under various influences.
<Recommended Reasons>
This anime is set in Takehara City in Hiroshima Prefecture, which has beautiful scenery, so the background is very beautiful. The way high school students overcome their worries about the future makes you nostalgic. As the story goes on, you will find that they grow up to be strong and lonely, because the characters are so realistic.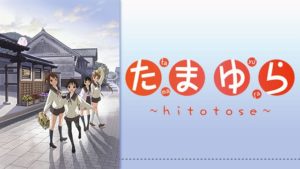 Therefore, the story is very simple and easy to empathize with and understand the conversation. You may not know the terms "yokubari" (greedy) "yobisute" (calling someone without an honorific) and "kizukai" (care), but they are frequently used in everyday life. The characters talk normally and the conversation is simple. Their way of speaking is suitable for listening and emulation practice. It is an excellent anime as a textbook for beginners of learning Japanese.
<Learning Point>
There are few difficult words in this anime. The list of difficult words is filled with everyday words, so you can memorize them all. Many of the characters speak the language normally, and it is easy to listen to and emulate. In particular, Fu is polite, so please refer to her speech.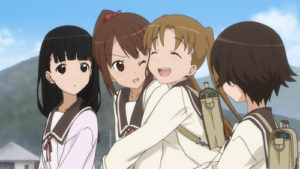 You can also learn about Japanese daily events such as chatting at a café, sleepovers, and festivals that all high school girls experience. On top of that, there is a worry of "what do I want to do?" that is common among Japanese high school girls. This is a very common problem for Japanese students, so it is a very good work to learn about the character and temperament of Japanese people
8. "Encouragement of Climb" Series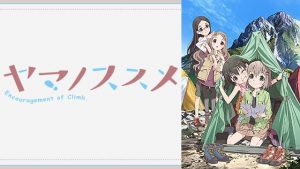 <Story line>
As a child, Aoi was active as a mountain climber, but now she's an indoor type for some reason. She liked to play alone and had few friends, but she was still having a good time. However, when she enters high school, she resumes climbing the mountains with Hinata, who was her childhood companion. She starts climbing again from a small mountain in the neighborhood where she can climb even in casual clothes, and as she gradually learns, prepares tools, and makes friends, she develops climbing skills in order to see the sunrise again that she saw in the past.
<Recommended Reasons>
This anime is full of fun of mountain climbing that even beginners would want to climb. You can also learn about mountain climbing because of the knowledgeable Hinata teaches the beginner Aoi how to climb. You can also enjoy the growth story of the main character Aoi. Also, the illustrations are very cute and the story progresses in the nature, so it is sure to be soothing.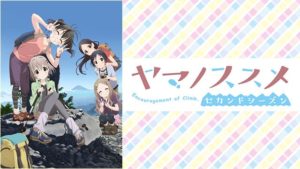 In addition, each episode is a short story of about five minutes and the plot is simple, so you will be able to easily understand all the words and lines that appear. Therefore, it is suitable for repeated viewing for learning. It is perfect for taking a break from studying Japanese. The number of difficult words is quite limited: "shisakuhin" (prototype) "hikyou" (unexplored region) and "Ombu" (piggyback ride). The way the characters talk is quite normal and the conversation is easy, making it suitable for listening and emulating exercises. This anime is highly recommended not only for beginners of learning Japanese but also for those interested in mountain climbing in Japan.
<Learning Point>
In this anime, even if you make a list of difficult words, there are only about 2 ~ 3 words to remember, so memorize them all. The way each character speaks is perfectly normal and can be emulated. Hinata also has a particularly clear pronunciation that makes listening easy.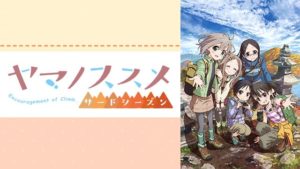 Popular mountains such as Mt. Takao and Mt. Fuji in Japan are depicted in detail. Even people who have been there can remember it. You can also learn about Japanese mountain climbing/hiking manners, such as greeting when you pass someone on a trail.
9. "Aria" Series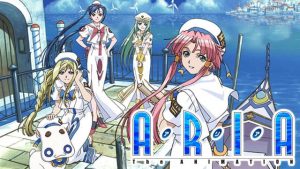 <Story line>
The story is set in Aqua, a planet of water created by artificially changing its environment. Earth-born Akari Mizunashi comes to Aqua's tourist city of Neo Venice, determined to become a full-fledged pilot. There, she meets a group of unique seniors and spends her days training at ARIA Company to realize her dream. The beautiful scenery of Neo Venice changes from season to season, and Akari grows in this beautiful city.
<Recommended Reasons>
Neo Venezia, the setting of this anime, is the setting where buildings and customs were transferred from Venice on the earth, so actual tourist resources appear in anime. Because of that, the background is so beautiful that just looking at it is soothing. The story revolves around her daily life at Aqua and her interaction with local people, so the story follows a leisurely time frame. Even in the slice of life anime, the story is simple and peaceful, so you can forget the hustle and bustle of daily life.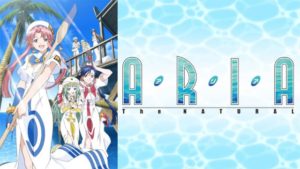 Difficult terms are job-related terms such as "tada-nori" (free ride) "syoubai-gataki" (business rival) and "sekkyaku" (customer service) but there are few unfamiliar terms. The way the characters speak is polite and slang is not used at all, making it ideal for emulation practice. This anime is highly recommended for beginners of Japanese language study.
<Learning Point>
This anime is easy to remember because there are few difficult words and there are only about 5 ~ 10 items on the list. Many of the characters speak politely, which is perfect for studying politeness. And when they talk with their friends, they use somewhat frank language, so you can learn the differences. Since there is also a female language, it would be good for female Japanese learners to practice emulating it.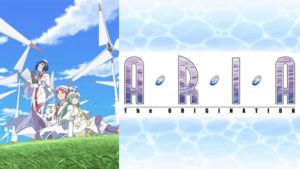 As for the scenery, Venice is the setting, so it's not Japan, but the characters in the story are more Japanese in character. In particular, Akari's heartbreak when she broke up with a gondola for practice shows the Japanese way of taking care of things. The summer scene in the story "yakou-rin" (Night Light Bell) is about a Japanese wind chime (Fuurin). Japanese wind chimes are not attached to a pole and held in a hand, but they look the same and are hung on the eaves. Every time the wind blows, the wind chimes produce a cool sound, so you can enjoy and cool yourself. As you can see, there are things here and there that make you feel like you are in Japan, so it will be fun to look for them.
10. "One Week Friends"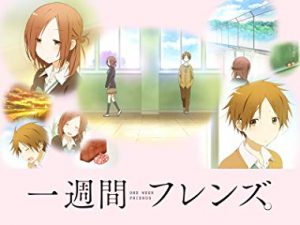 <Story line>
Yuuki Haase, a sophomore in high school, was concerned about Fujimiya Kaori, who was always alone. He dared to say to her, "Please be my friend.", but her answer was ambiguous. However, as Yuuki tries to make friends with her, Kaori tells her that she should not do so. However, Yuuki does not give up and Kaori gradually opens her mind, but she has a shocking secret.
<Recommended Reasons>
This anime is a love story that is easy to follow. First of all, one of the attractive features is the video that is drawn with delicate touch like youth anime. The story, in which you can enjoy both emotion and laughter, depicts the loneliness, perseverance, and childish love that are common in adolescence.

Since the characters are high school students and young people, the terminology is simple. They are just young people's words like "Mendou" (hassle), "tsurumu" (hang out) or "ikesukanai" (disagreeable) or spoken words like "amaeru" (act like a spoiled brat) or "sewa wo yaku" (take care of). The way the characters speak is normal, so it's perfect for listening and emulating. Overall, this anime uses easy Japanese and is recommended for beginners to learn Japanese.
<Learning Point>
This anime has very few difficult words, and even if you make a list, there are only about seven, so you can easily remember them. There are both male and female languages, so it's a good idea to emulate them according to your gender.

It is typical of Japanese people that they are sensitive enough to cause physical and mental problems. This anime will help you understand the temperament of the Japanese, as the main characters are these two Japanese characters.
Summary
I recommend these 10 anime for beginners to learn Japanese. The 10 anime were selected not based on their story or interest, but on their suitability for studying Japanese. In these anime, Japanese culture, the character of the Japanese and their way of thinking are described in an easy-to-understand manner. If you look at not only words but also these factors, learning will be more fun.
There are also things you can learn by looking at more than one anime. For example, a sitter system that did not exist in "Bunny Drop" appeared in "Sweetness and Lightning". Although the number of people using sitters is limited in Japan today, it is true that they are becoming popular among ordinary people.
In this way, you can learn the current of the time by browsing multiple works, so learning Japanese with anime is effective. However, as mentioned above, completing basic learning such as vocabulary and grammar is the basic premise of learning Japanese with anime. You can read more about it in this post (How to Learn Japanese with Anime). I hope this article helps you learn Japanese.
If you want to know the recommended anime after the best 10, please refer to the link below.
Comments