Searching the Dictionary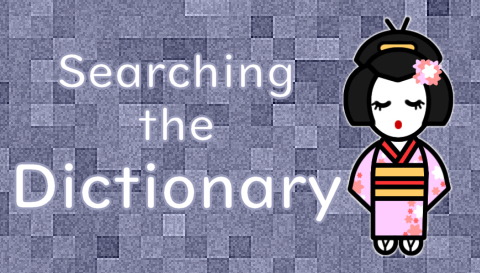 Searching by Japanese Word
Basic Searches
You can search for a Japanese word by typing the word using either Kanji, Kana or Romaji characters. For example, to search for 楽しい, you can type any of:
Wildcard Searches
An asterisk (*) character will match 0 or more characters. For example to find all words in the dictionary starting with 気に, you can use:
You may place the asterisk character at the start, the end or in the middle of your search term. For example to find all words ending in 語, you can use:
The asterisk will match both Romaji and Japanese characters. This can be useful for when you know the basic sound of a word, but are not sure of the correct spelling:
A period(.) character will match 1 character exactly.
Like the asterisk, the period character will also match Romaji characters.
Combination Searches
You can combine searches using the space character. For example, you could search for words containing the different readings of 楽 by using:
Number Searches
You can search for arbitrary numbers using either numerical digits or Kanji which will show you how to write and pronounce the numbers:
You may also search for the number with a counter at the end to see correct pronunciation.
Searching for Kanji you don't know how to type
When you are reading printed media, you may come across Kanji that you don't know the reading for and are unable type. When this happens, you can use our Mini Kanji Search feature by clicking on the 字 character on the left side of the search box to find the Kanji.
Searching by English Meaning
To search by the English meaning, simply type a word or combination of words that you wish to search for. If you search for multiple words, search results which contain the most matching words will appear near the top.
Both the asterisk and period character can be used when searching by English meaning:
Multi Word Searches
If you have a paragraph of Japanese text where there is multiple words you don't know, or you are having trouble working out where the words start and end, try using the multi-word search option.
Recent Searches
Your last ten recent searches will appear in the left hand menu. If you are using a mobile device, you can access the menu by tapping on the menu icon (☰) on the top left hand corner of the page.
Got a tip for us?
If you have any other helpful tips or ways to improve searching the dictionary, then let us know in the comments below.
Comments