Japan knows how to do snacks right
Whenever I've been lucky enough to visit to Japan, one of the things I've looked forward to the most is the snacks. Packaging is always an explosion of colour and cuteness, with limited edition versions featuring popular anime characters and idols. Flavours change with the seasons, and there are variations of popular snacks that are unique to Japan. I've lost count of the number of different Kit Kat flavours I've tried while over there. コンビニ (convenience stores, or konbini for short) are located everywhere and are open at all hours - anytime you are hit with a craving, be it first thing in the morning or at midnight, you can make a dash to the nearest konbini and find the perfect treat to sate it. Its all just so damn convenient and fun!
It's also one of the things I've missed the most with travel to Japan only recently re-opening. Usually when I'm leaving Japan, I'd use what ever remaining cash I am holding onto to stock up on the treats - they make great souvenirs as well - but my stash has long since ended. So when we were contacted by TokyoTreat that they would like to send us a promotional box to review, it was with pure joy that we accepted it.
If you've been a regular visitor to our site, you might remember we did a review of a Sakuraco (桜子) snack box last year.  While Sakuraco celebrates the artistry and beauty of traditional Japanese sweets, TokyoTreat is all about the buzz and excitement of modern Japan. Be sure to read our Sakuraco review as well if you haven't done so.

Like the Sakuraco snack boxes, the TokyoTreat snack boxes can be ordered indivudually for a special occasion, or you can buy on a subscription basis with discounts to be treated every month of the year. Each month has a different themed box which is packed with between 15 to 20 individually selected snacks based on a particular season, event or area of Japan. They make great gifts for people studying Japanese, people wishing to experience the snack culture of Japan, or are just nostalgic from not having been there for so long.
That's one hefty box!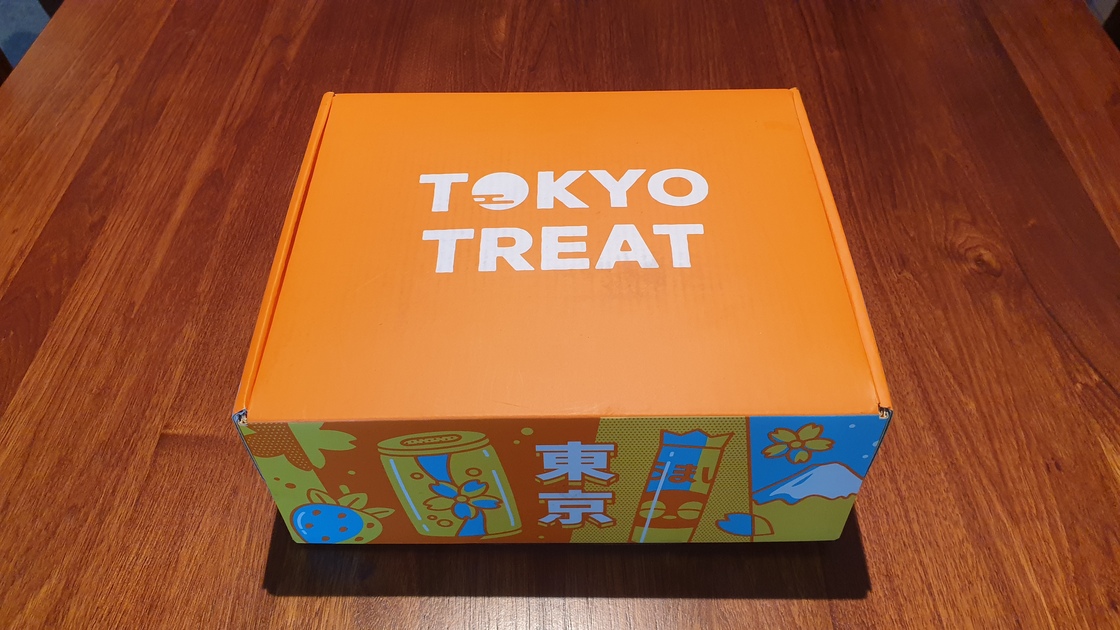 We received our the box in ultra-quick time, it arriving at our door in Australia within only a few days from the time of us being notified of it being sent from Japan. The first thing I noticed when receiving the box was the size and weight of it. The box is big and hefty, weighing in at over 1.3kg (that's 2.86lbs)! After receiving the box from the happy courier, I couldn't restrain myself and immediately went to unpack.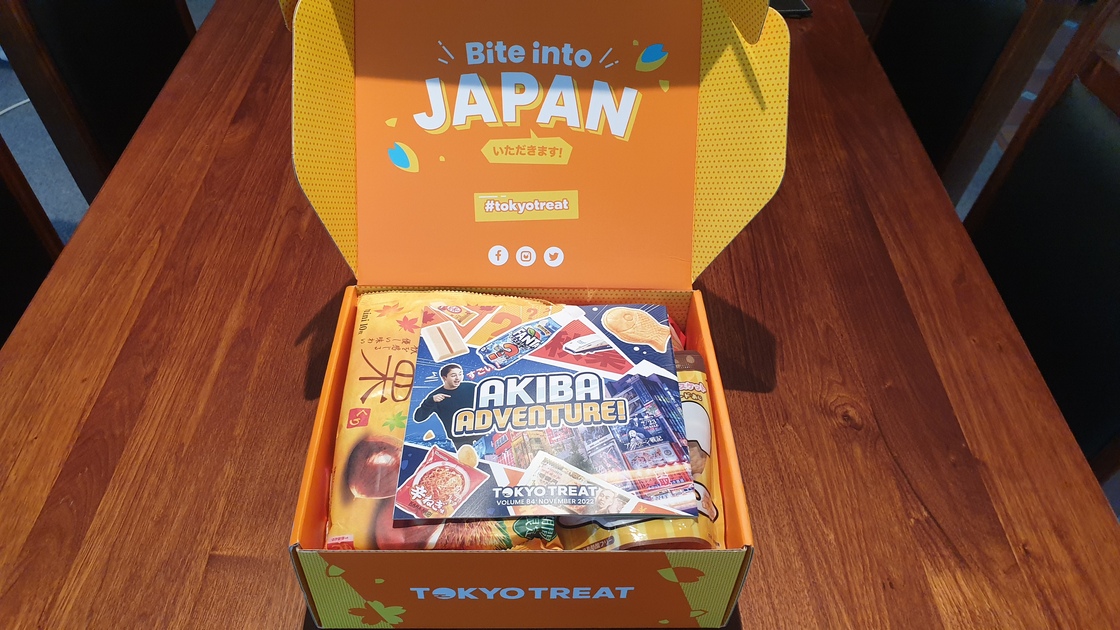 Opening the box, I took out each item one by one, my excitement growing with each item removed. The box is densely packed, every inch of available space seems to be filled with an item. I feel exactly the same I did years ago in those late night dashes to the konbini, 文字通り (literally), just like a kid in a candy store.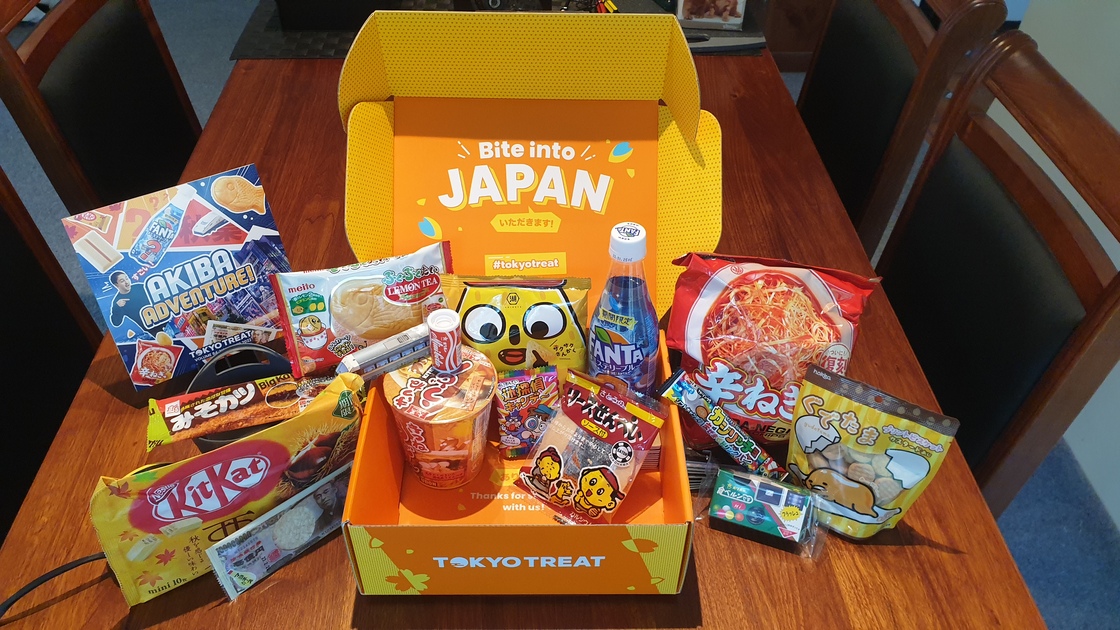 How on earth did they fit all that in that one box, I think admiring my stash.
Lifting up the packet of Kit Kats, I examing the Kanji 「栗」featuring prominently on the autumn themed packaging. What is that? Wahh, Chestnut flavoured Kit Kats, mentally I try to imagine the taste of it. Japan always has the most amazing Kit Kat flavours that you can't find in other countries. Flavours regularly change per season, and you can also find limited edition versions based on the region or city you are in. Due to the word Kit Kat sounding a lot like きっと勝つ (kitto katsu), meaning "to surely win", they are eaten all over the country during exam time, before interviews or when facing any significant challenge.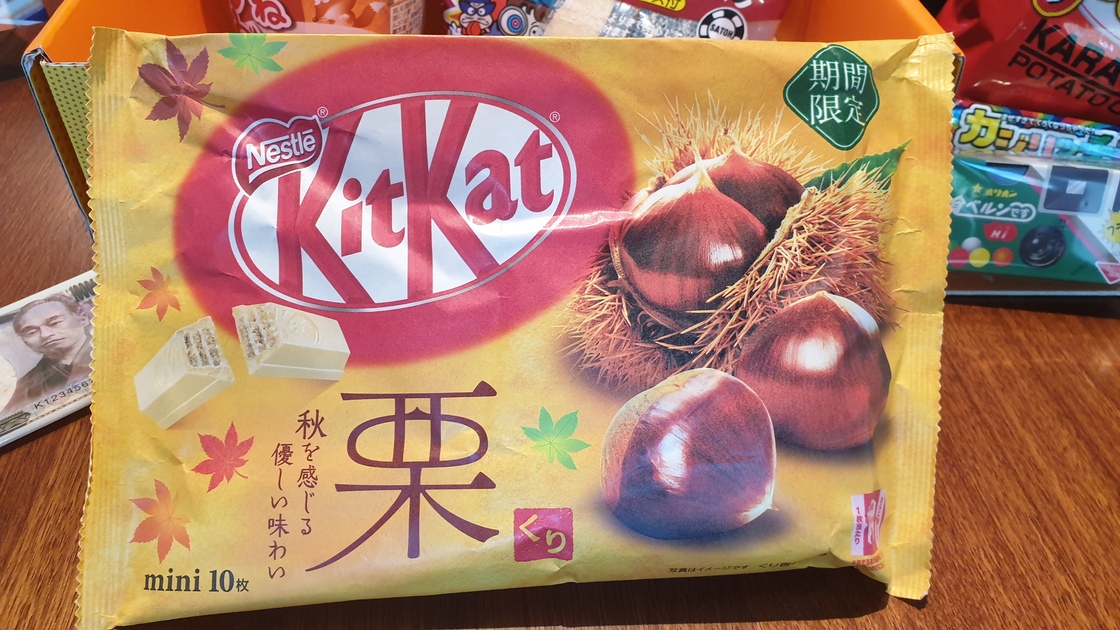 Next, my eyes are drawn to the miniature shinkansen 「新幹線」. Kawaii 「可愛い」~ it's just too cute! It rattles a bit when I shake it ~ apparently its filled with tiny chocolates!!
The official looking note is just too interesting for me to ignore. I pull it out and count the zeroes displayed on it. "one, two three ... eight". Eight zeroes, wow, that's an 一億円 (one hundred million yen) note. Am I rich? No, its not real money, the contents are a thin wafer of spicy fish jerky. It looks just too tasty! Of particular interest to me as a Japanese learner, is the Kanji used to write the number on the note. 「一」 is written using the Kanji 「壱」, which is the formal version used in official documents as the simpler Kanji「一」by itself can be easily altered to look like another number.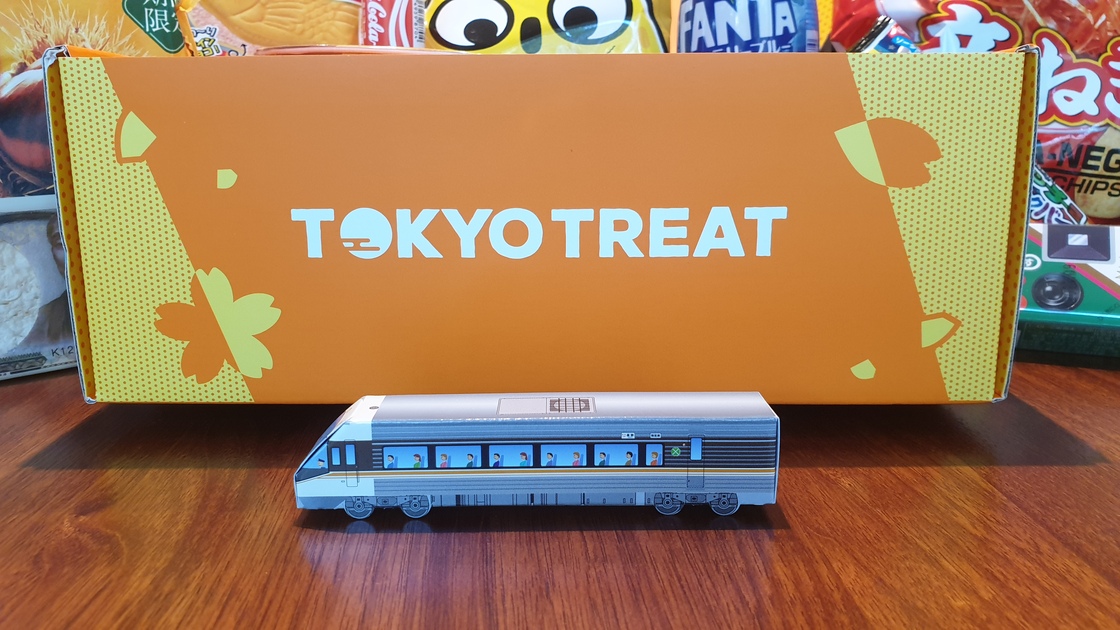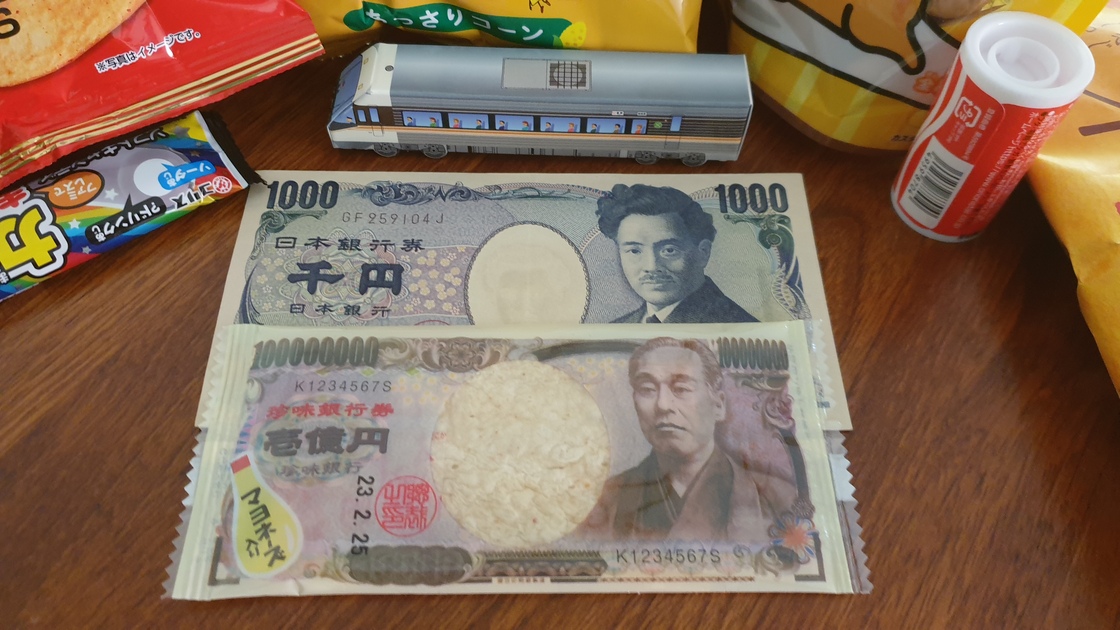 There is just so much to look at and enjoy! The packet of candy with the picture of the boy holding a magnifying glass draws my attention. On the top of the package is written meitantei candy -「名探偵」 normally means the great detective, but the Kanji is written differently on the package「迷探偵」. Looking it up in the dictionary I find that it's a pun meaning an "inept" or "lost" detective! So much Fun!!
The Fanta bottle is not it's normal colour, being blue! Written on the label is Fanta #ミステリーブルー #WHATTHEFANTA. Even the English is funny. I wonder what will it taste like?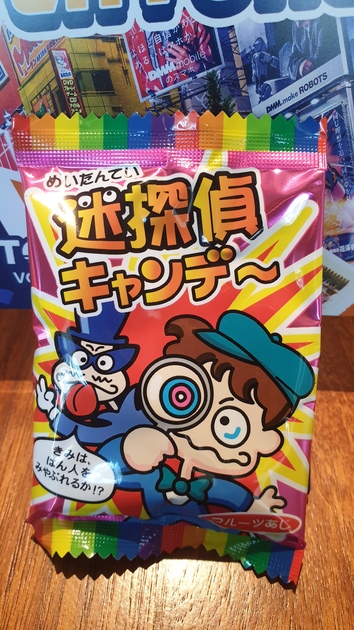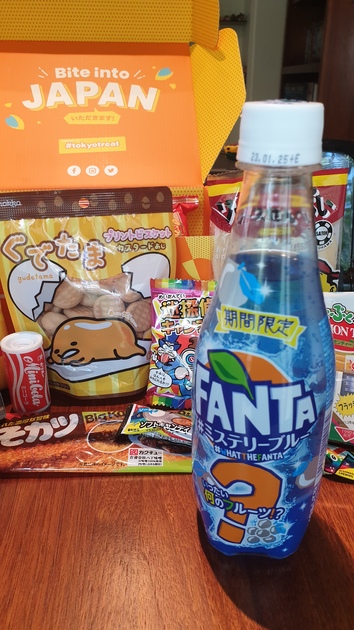 All up there was 15 items in the TokyoTreat snack box I received. I've only given descriptions of a handful of what was in the box, but every one of them is as interesting and as fun as the ones described above. Which I'm sure you can see for yourself from the photos.
Reviewing the snack box has given me the sudden urge to invite my friends who I have been learning Japanese together with and throw an impromptu 勉強パーティー (study party) together!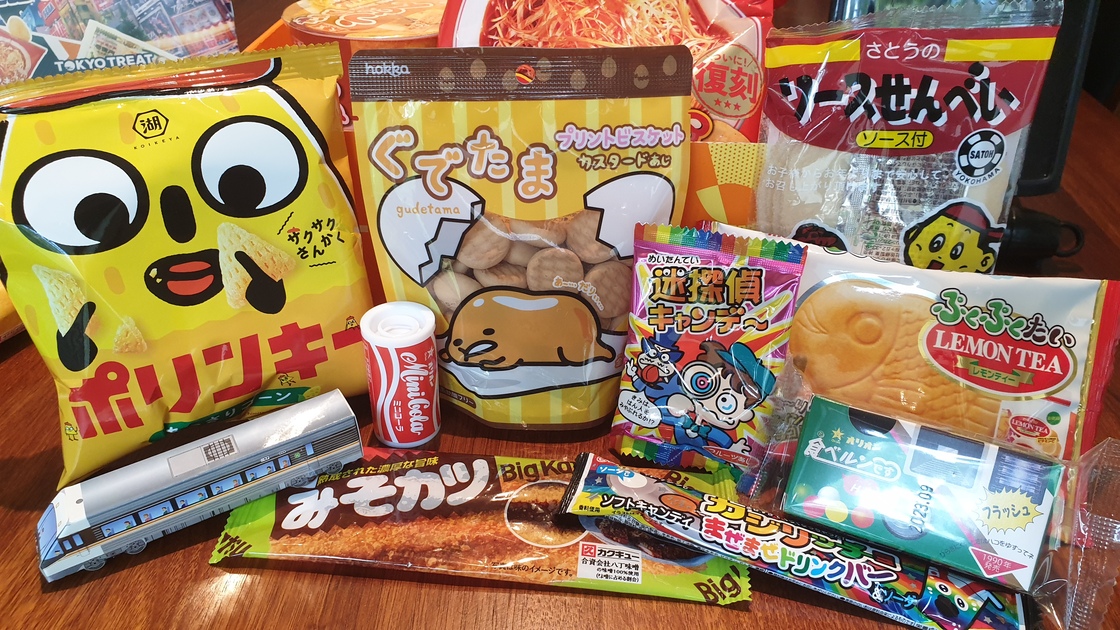 The snack guide - TokyoTreat style
The snack guide provided with the box is a treat in itself. This month's edition is titled "Akiba Adventure", and contained within it is fun and useful information about Akihabara, one of the most fun places to visit when you are travelling to Japan. There is descriptions about each and every product provided in the snack box, including details on common allergens, ingredients it may contain and whether or not it is suitable for vegetarians. The quality of information contained in the guide reflects the love and care that TokyoTreat takes in preparing their product. A sample of some of the pages is shown below.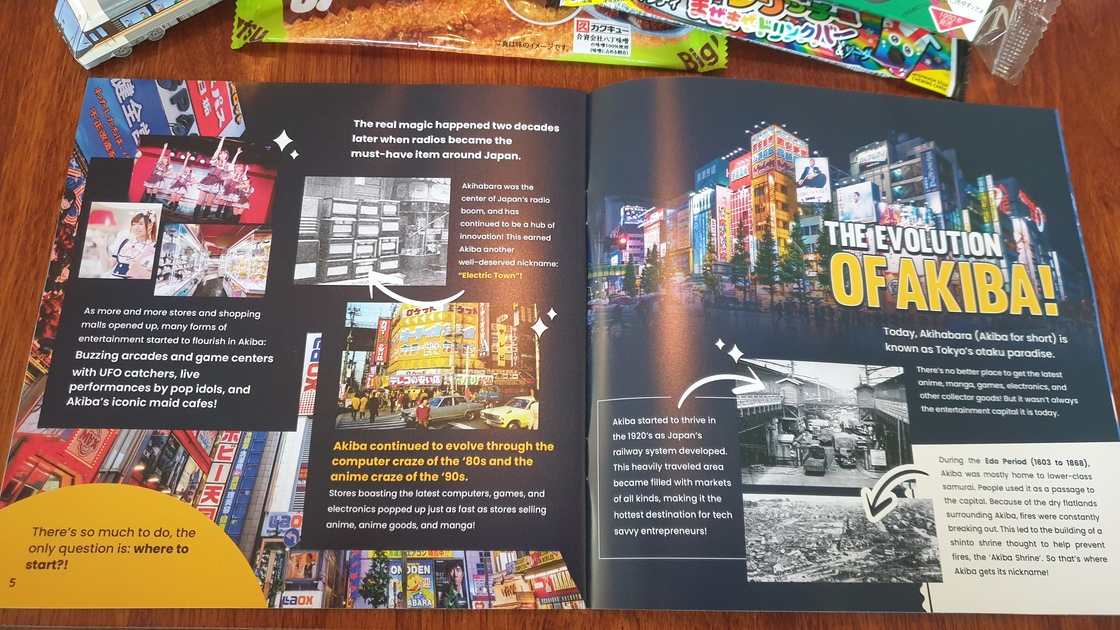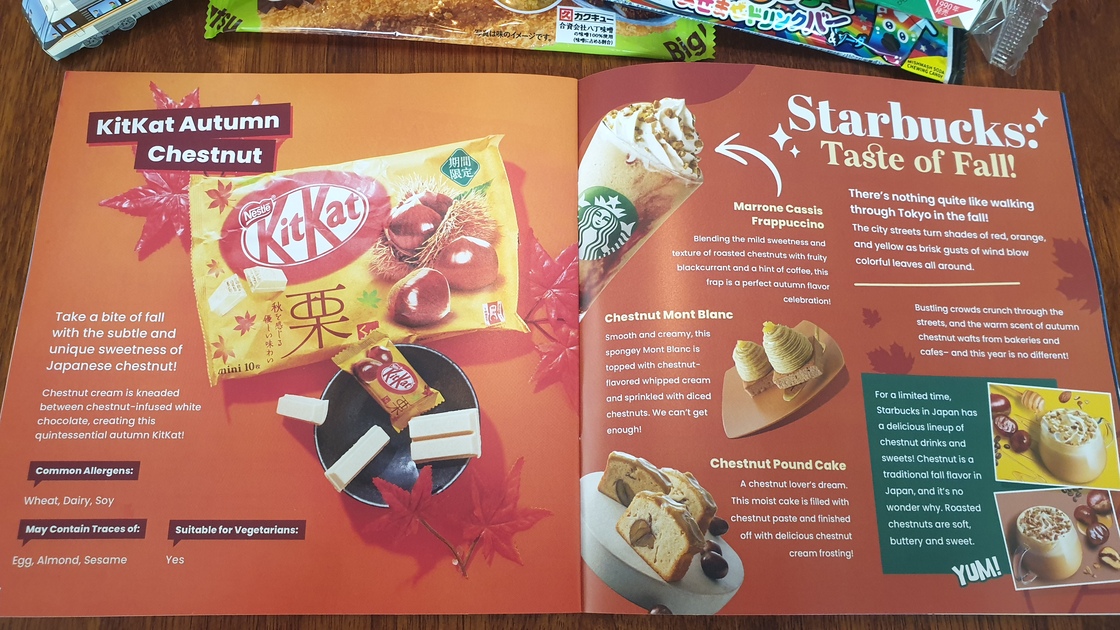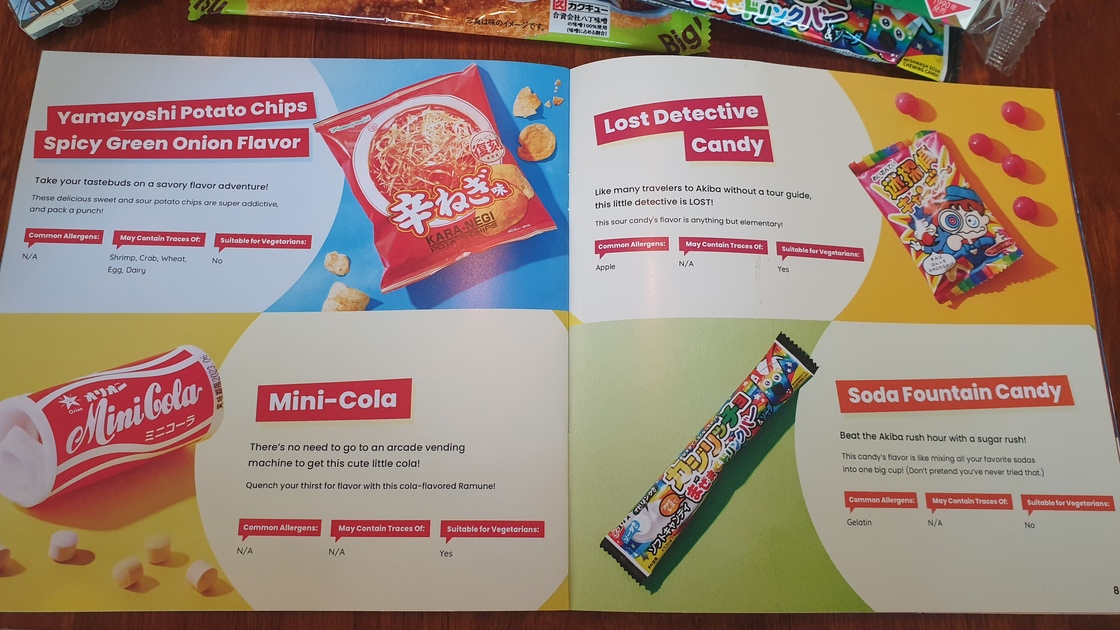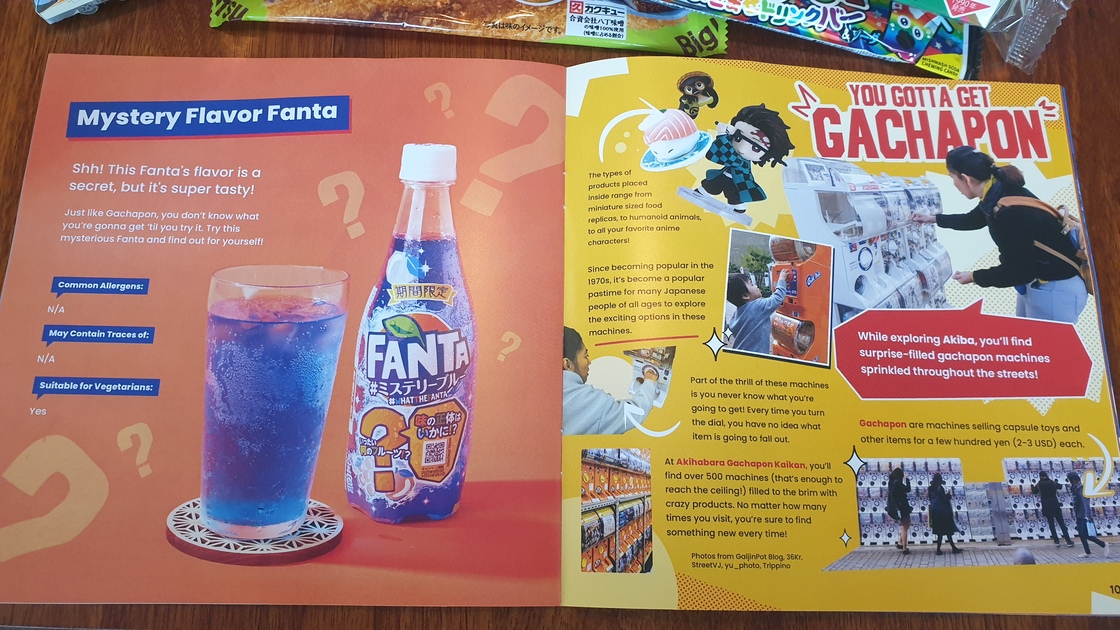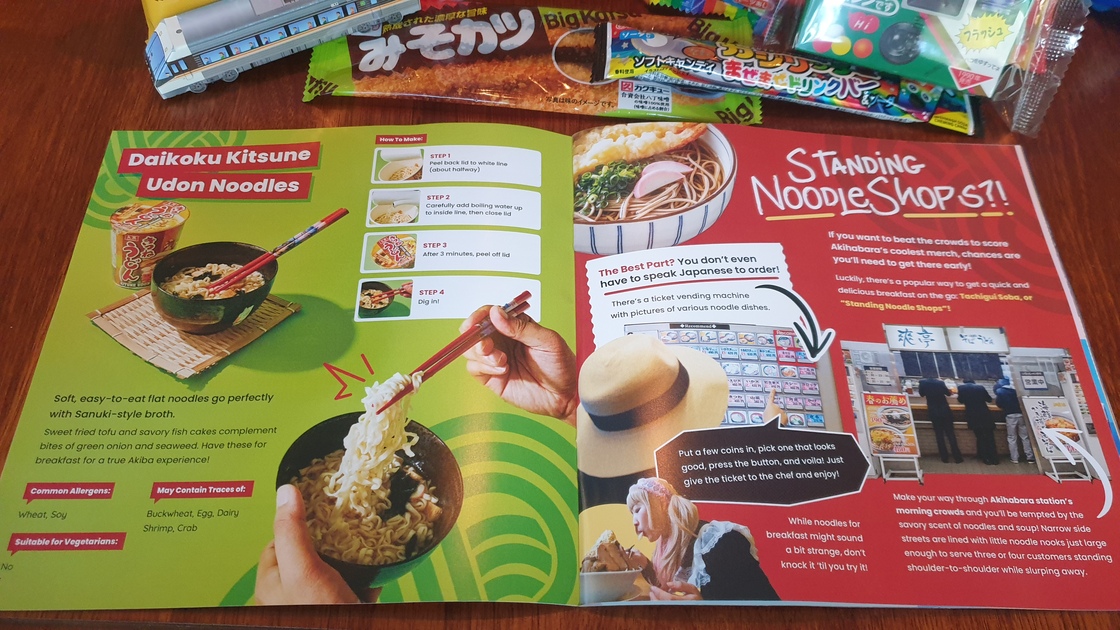 Full list of snack box contents
1 packet of 10xKit Kat Autumn Chestnut
1 packet of Lost Detective Candy
1 Soda fountain candy
1 packet of Yamayoshi spicy green onion flavour potato chips
1 Mini-Cola can of Ramune
1 bottle of mystery flavoured Fanta
1 100,000,000 yen fish jerky note
1 JR Express chocolate train
1 camera candy dispenser
1 packet of Gudetama custard biscuits
1 cup of Daikoku kitsune udon instant noodles
1 packet of Saucy senbei
1 miso katsu jerky
1 Puku Puku Tai lemon tea taiyaki
1 packet of Polinky lightly seasoned corn snack
Comments