My Letter to Santa
Dear Santa-san,

I am writing to let you know that I've been very good this year. I've listened to my parents, studied hard and feel like I've improved in my Japanese. I hope it's not too much to ask, but I would love to get some tasty snacks from Japan to share with my friends and family who have helped me so much throughout the year.

PS. There has been a lot of bad colds going around, so dress warmly and get Rudolph-chan to wear a mask. You know how sensitive his nose is!
Christmas came early for us this week, with TokyoTreat taking on the role of Santa-sans's little helpers and sending us their Christmas themed snack box to review. If you have read our previous review of TokyoTreat's Japanese snack box, you will probably appreciate just how hard it is for me to contain my excitement! The TokyoTreat Snack box is packed full of fun and exciting snacks that embody everything we love about Japan. You can order one snack box individually for a special occasion, or you can buy a subscription and be treated every month of the year.
There is also a more traditional version of the snack box available from Sakuraco (桜子). The snack box from Sakuraco is packed full of seasonal Japanese treats, each and every one giving you a taste of the serenity and beauty of traditional Japan. You can read our review of the Sakuraco snack box here.
They both make wonderful gifts for anyone studying Japanese or for those who love the Japanese culture. Seriously, what better Christmas present could you ask Santa-san for?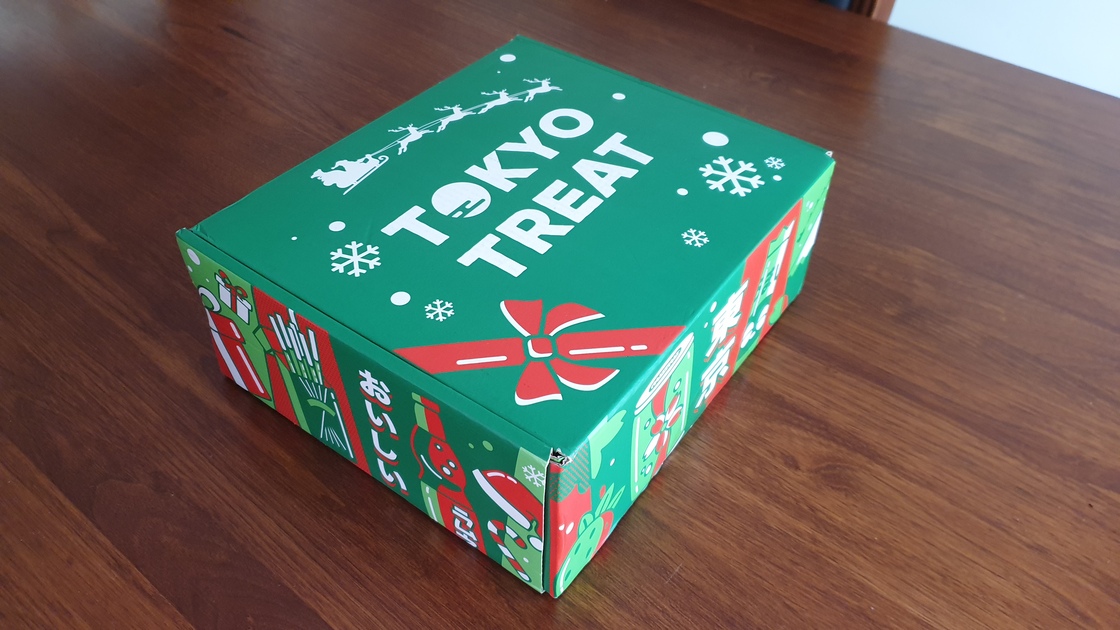 The snack box that just keeps on giving
Unpacking a snack box from TokyoTreat gives me exactly the same thrill as opening gifts on Christmas morning does. Each box contains between 15 and 20 items, every one demanding your attention with the promise of new and exciting flavours that are unique to snacks found in Japan, and drawing you in with the cute and fun details on the packaging.
After opening the box my attention is immediately stolen by the pack of Milk Tea Kit Kats. In English, "Let's have a tea party!" is written on it. If I was a JRPG character, this would register as an instant kill, the damage is that intense. Milk Tea flavoured Kit Kats! Kit Kats are one of my all time favourite things; times stops for an indeterminate period as I pause to imagine the flavour of what a milk flavoured variety would be like, before eventually restarting as I'm drawn back to reality by the rest of the contents in the box.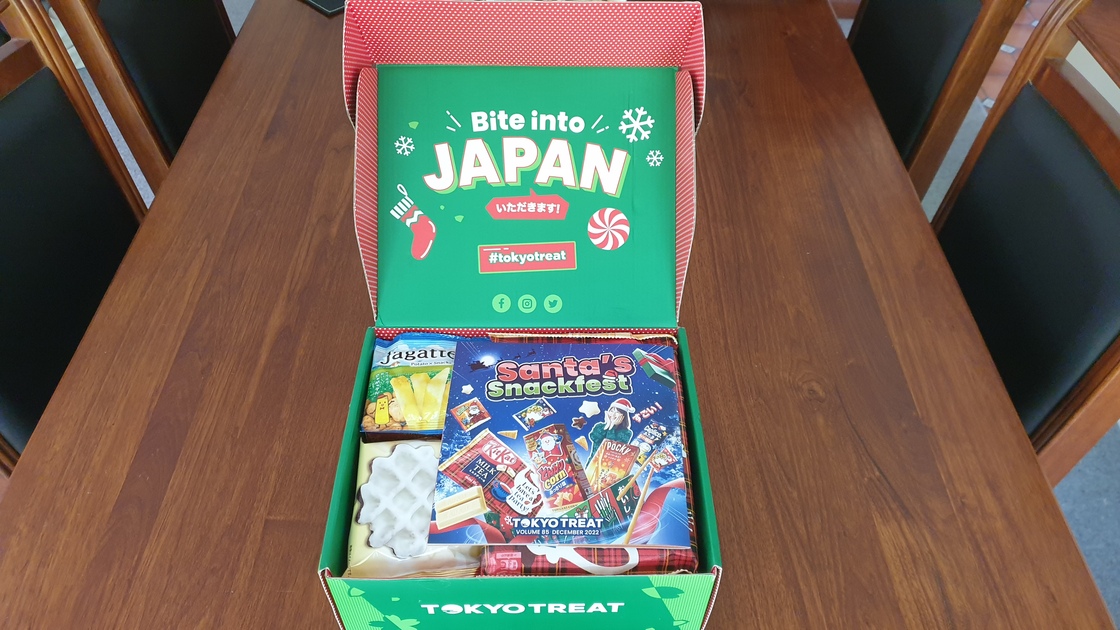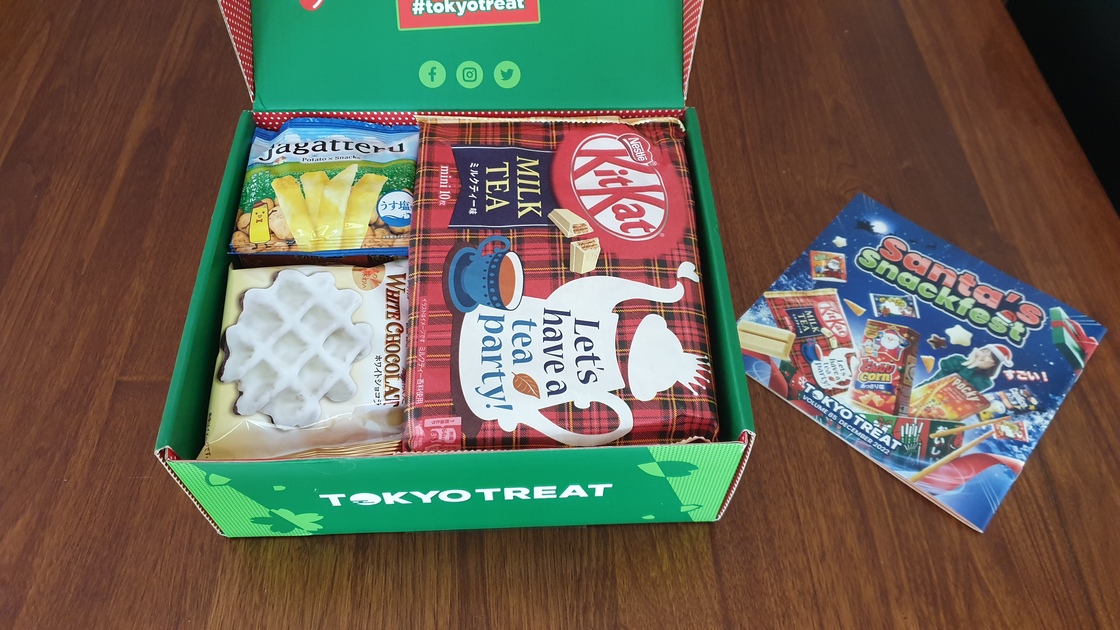 The moment of calm is short lived though. In sort of a dream state, I remove the package with White Chocolat「ホワイトショコラ」and the picture of the most exquisite looking Belgian Waffle「ベルギーワッフル」on it. This would be perfect for afternoon tea on Christmas day I think to myself, wondering if I can hold out until then.
Next is the pack of potato crisps, with "jagatteru" written on the package. Jaga is short for ジャガイモ (jagaimo) meaning potato, but what does "jagatteru" mean? It looks like they've somehow conjugated the word potato into a verb! (I later confirmed with my Japanese friend, it is a made-up word that would translate into "potato-ing" if it was in English. How cute!! I am absolutely going to use this from now on whenever eating potato crisps).
I'm next hit with the dual blows of Pocky 塩キャラメル (salted caramel) and Caplicoのあたま (head of Caplico). Where to start? I feel like I'm being pulled in two directions at the same time.
Pocky is one of Japan's most addictive snacks, it's basically a thin biscuit stick that has been dipped and coated in chocolate. A fun fact is that the name Pocky comes from the "pokkin"「ポッキン」sound it makes when you snap it. If you are lucky, you might be living in a country where Pocky is available at the Asian section of your local supermarket. But like Kit Kats, Pocky in Japan is just so much better, there is just so many different fun and mind-blowing flavours to choose from. Think, Pocky, salted caramel, just wow.
Caplico is another immensely popular snack in Japan, and it is also incredibly difficult to find sold outside Japan. So seeing it sent my excitement levels through the roof. Caplico normally looks like an ice cream on a wafer cone, with the ice cream part being a type of aerated or bubbly chocolate that doesn't need to be stored in the freezer. Caplicoのあたま is just the chocolate part of the sweet without the cone, it looks just so delicious! I'm tempted to open it right there and then, but somehow manage to diligently continue unpacking.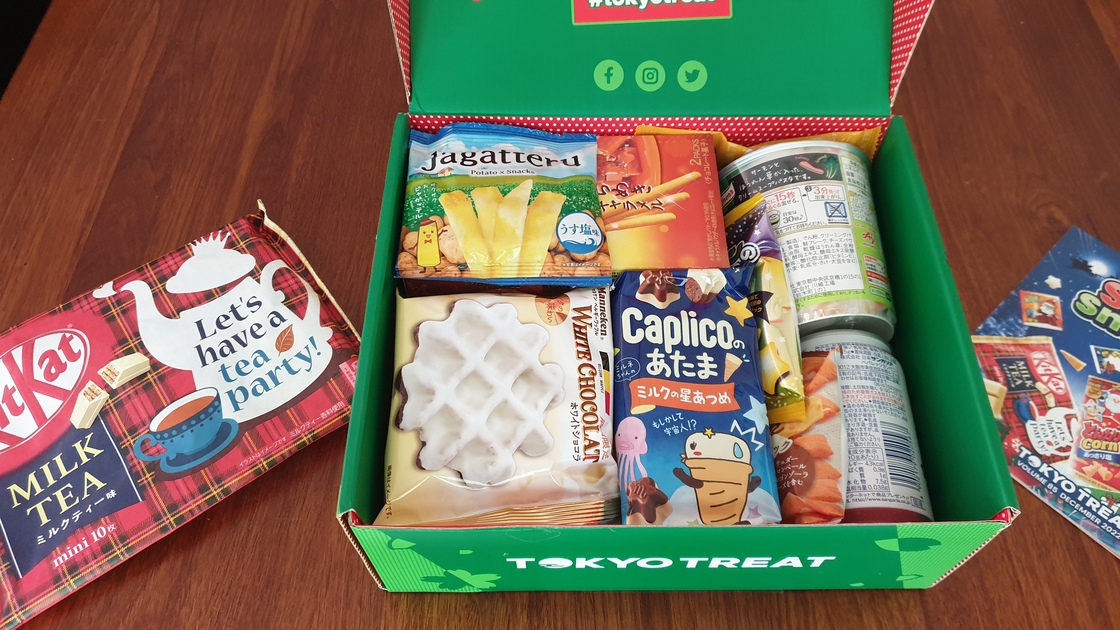 It really feels like there is no end to the number of treats they've managed to stuff into the one box. I pull out a huge santa and rudolph decorated box with とんがりcorn written on it. Tongari is the word used for objects with a sharp point, and corn「コーン」sounds the same as cone when spoken in Japanese. So they are lightly salted cone shaped corn snacks. They look a bit like cute little hats, or Christmas trees!
Just look at all this stuff. The contents of the box are not limited to sweets, there is even a cup of instant salmon and spinach creamy soup pasta「サーモンとほうれん草のクリームスープパスタ」for you to slurp down on wintery Christmas night.
Unlike here in Australia, in Japan canned beverages are not limited to carbonated drinks. Pulling out the can of 紅茶姫 Royal Milk Tea reminds me of the convenience of the automatic vending machines「自動販売機」which are scattered literally everywhere in Japan, even in the most remote unexpected places. Royal Milk Tea has the most luxurious taste, it will just go divinely with the Milk Tea Kit Kats I note to myself.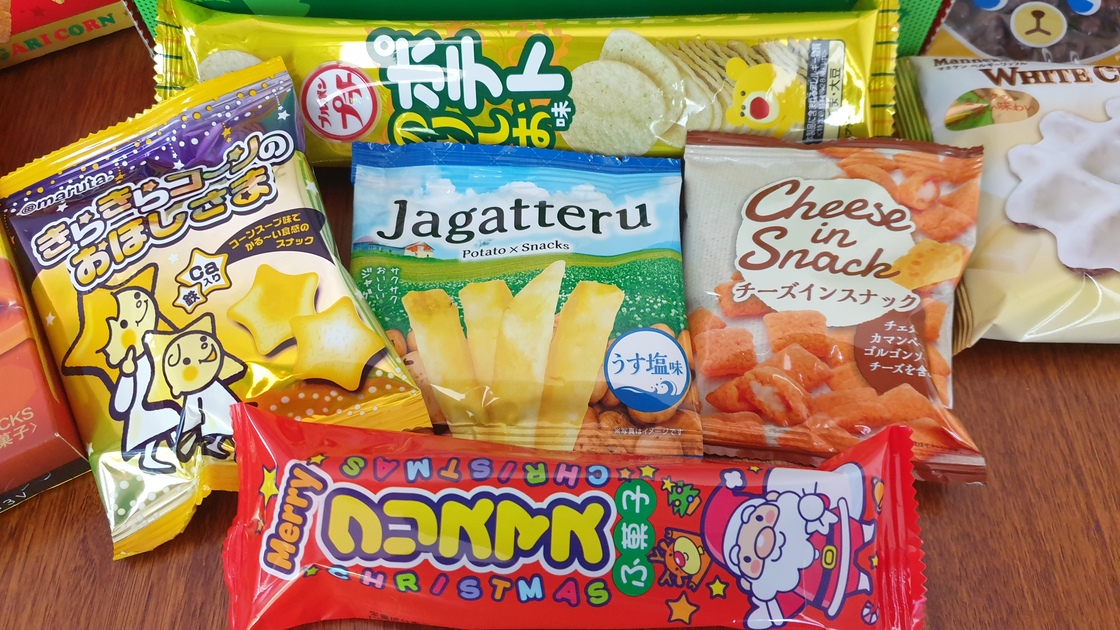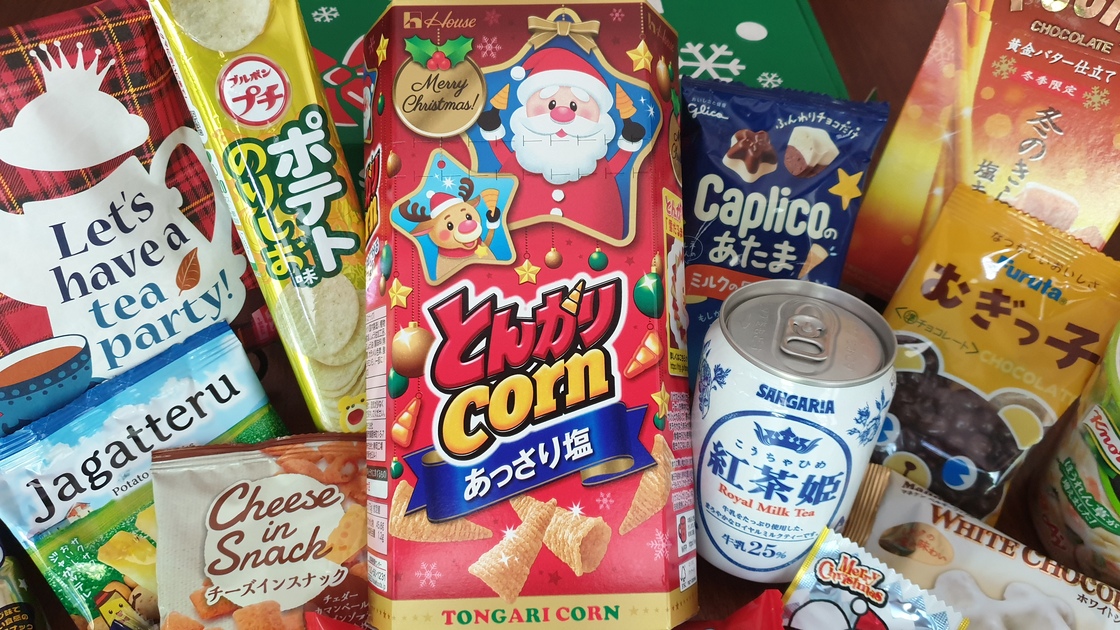 To get your own TokyoTreat Christmas treat box in time, make sure you sign up by December 15!
Time for a Taste Test!!
I find myself unable to resist any longer. Opening the packet of Kit Kats, I am delighted to find that each Kit Kat comes in individually designed wrappers with words such as "Enjoy", "Lucky" and "Happy" written on them. It is so cute, and just perfect for sharing with friends. Opening one, I pull out the wafer and listen to the satisfying snapping sound as I break it in half. Without pause it goes straight into my mouth. The sweet, yet slightly bitter taste of the milk tea blends perfectly with the crispness of the Kit Kat wafer. This is just so nice.
Next, I open the Caplicoのあたま pack. Each of the Caplico "Heads" are formed with two layers of milk and white chocolate, and are shaped into cute little stars. They feel like the perfect sweet to have on Christmas Eve. I pop one into my mouth, it has a rich and sweet taste, reminiscent of ice cream, but with the solidity of a light chocolate so it lingers in your mouth much longer than an ice cream would.
I'm so curious about the ふ菓子 stick. If you are learning Japanese, you may recognise お菓子 (okashi) as the word for sweets. Looking it up, ふ菓子 is a Japanese sweet made with a wheat and brown sugar coating. I've never had one before. The texture is so soft and feels like it is being absorbed into your tongue as the sweetness of it melts in your mouth. It is such a wonderful experience, why has it taken me so long to find this?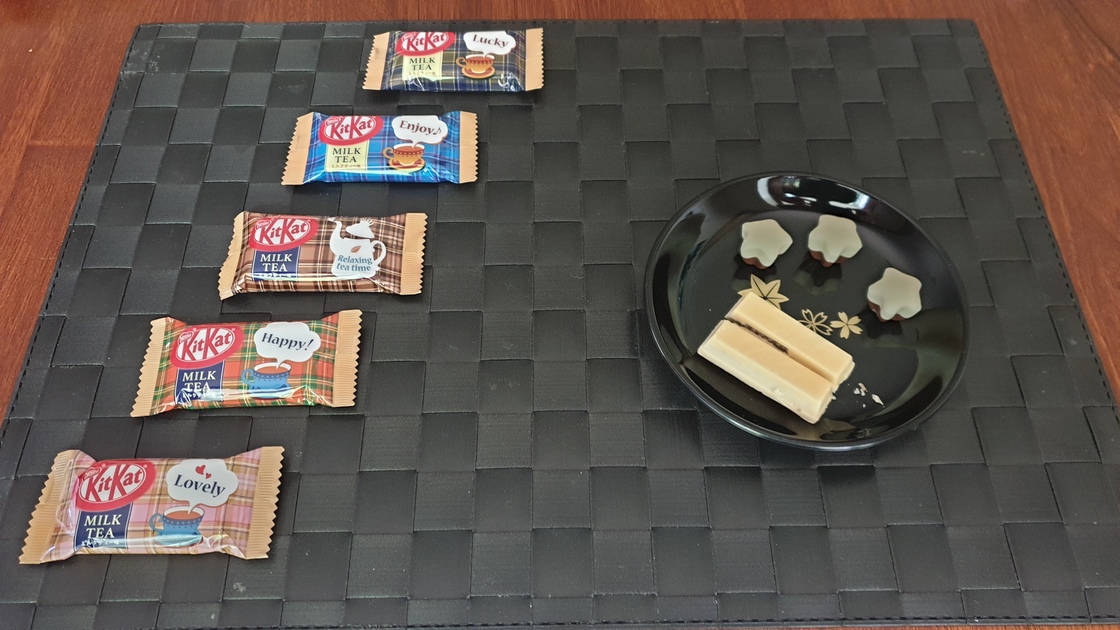 ♫ I'm dreaming of a Japanese Christmas ♫
I haven't yet been fortunate enough to spend a Christmas in Japan, so I can't really give a good description of what it is like. Fortunately, the accompanying snack guide contains a host of interesting facts about Christmas in Japan, ranging from why KFC and more recently pizza have become the staple meal on Christmas Eve night, to how Tokyo and Tokyo Disneyland are lit up for the event, and things you can do in Japan to celebrate the occasion.
Besides, the cultural information, there is descriptions about each and every product provided in the snack box, including details on common allergens, ingredients it may contain and whether or not it is suitable for vegetarians. A lot of love and effort has gone into making the guide, and it reflects the quality of the product that TokyoTreat has prepared. A sample of some of the pages is shown below.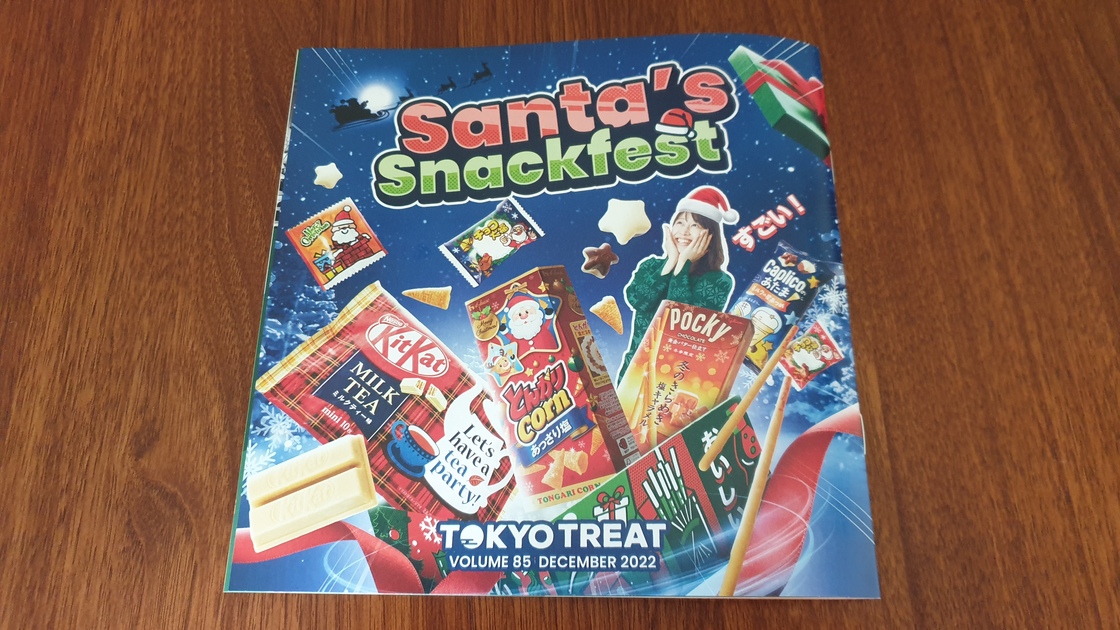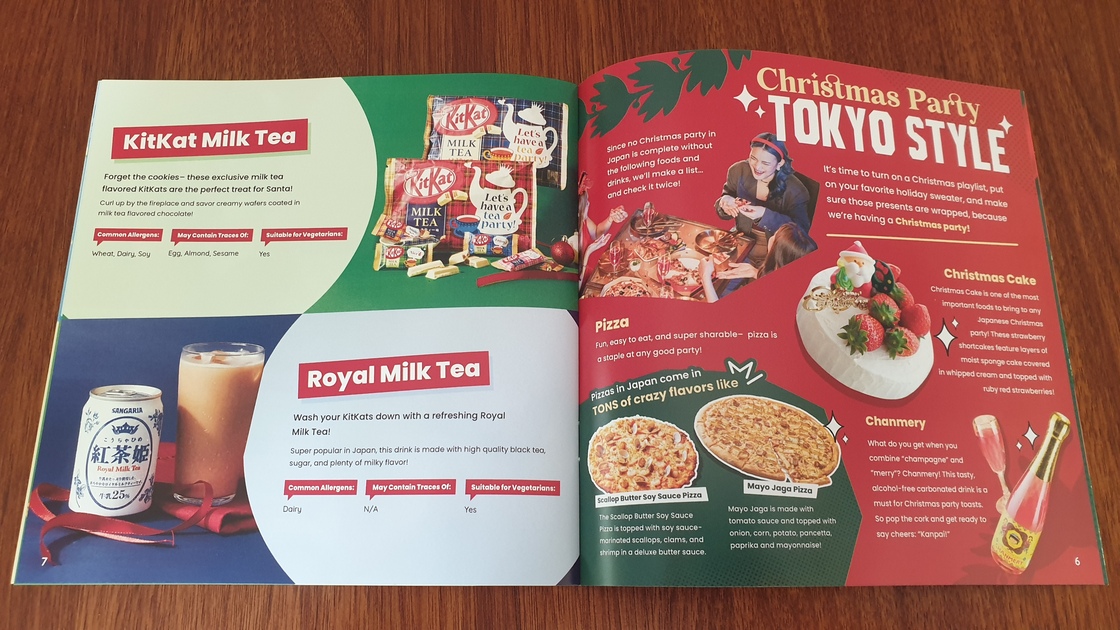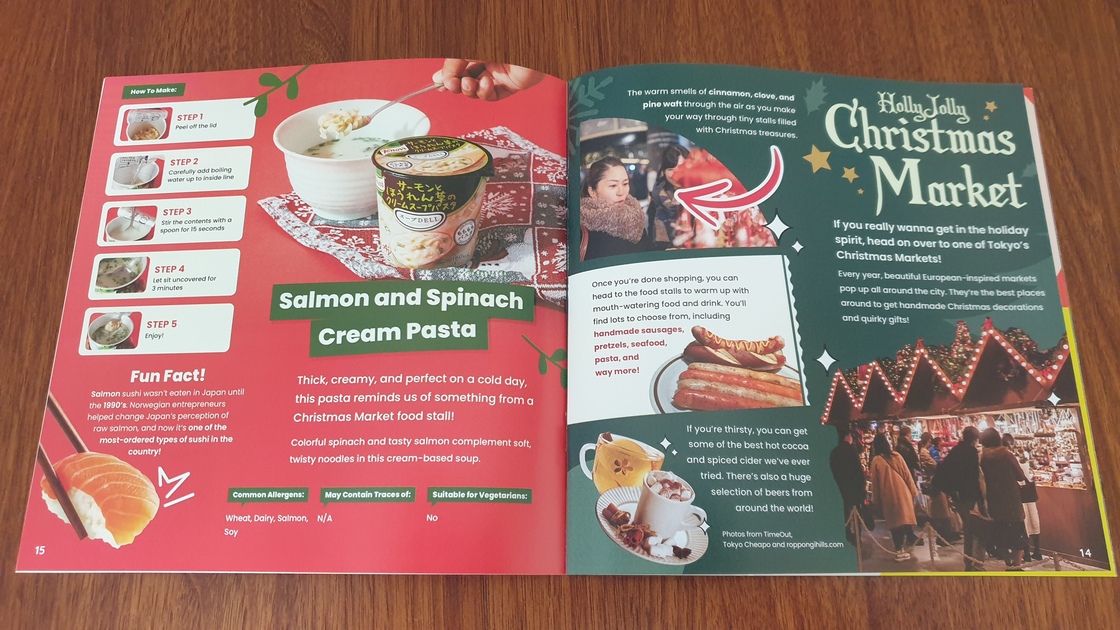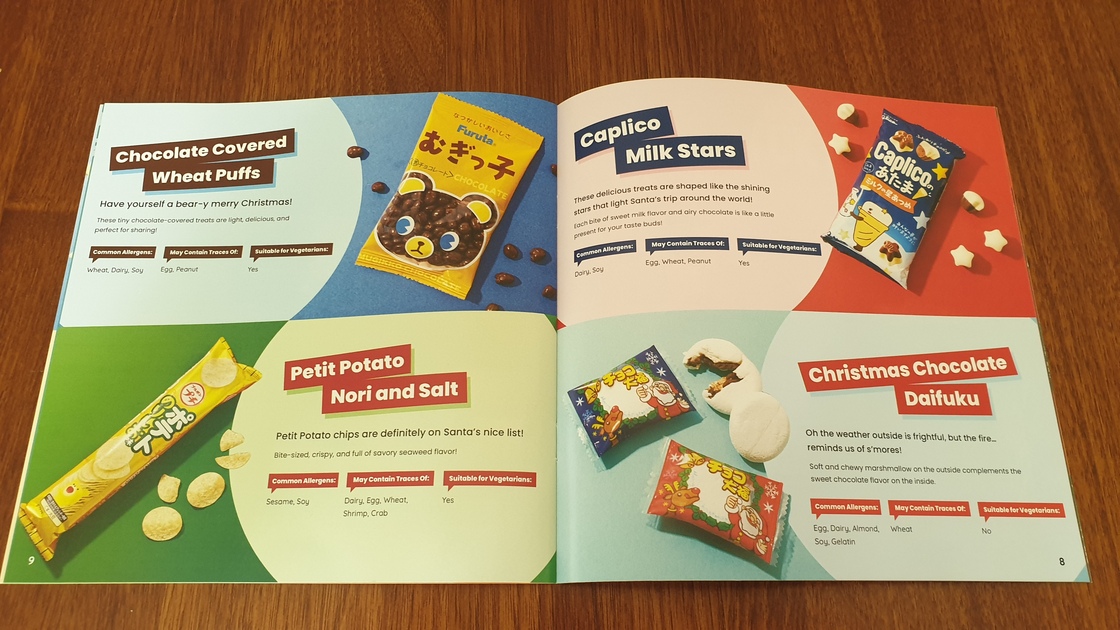 Full list of snack box contents
1 packet of 10xKit Kat Milk Tea
1 can of Sangaria Royal Milk Tea
1 packet of Caplico Milk Stars
1 Christmas Chocolate Daifuku
1 Packet of Mugikko Chocolate Covered Wheat Puffs
1 Packet of Petit Nori and Salt Potato Chips
1 Packet of Pocky Winter Caramel
1 Packet of Jagatteru Potato Snacks
1 Christmas Fugashi
1 Packet of Starry Night Corn Puffs
1 Ramune Christmas Surprise Candy
1 Cup of Instant Salmon and Spinach Cream Soup Pasta
1 Box of Tongari Christmas Corn Chips
1 Packet of Cheese in Snack
1 Manekon White Chocolat Belgian Waffle
Comments